This 76-Year-Old Lawyer is America's Oldest Competitive Snowboarder
Filed Under
Dick Schulze '67 has found paradise in Truckee, a one-time mining town on the fringes of eastern California. Here, 13 miles from the resorts of Lake Tahoe and 6,000 feet above sea level, he teaches snowboarding for seven hours nearly every day in the winter—that is, when he's not competing. At 76, the nation's oldest competitive snowboarder recently placed second in his age group at the USASA National Championships (shown above). 
It's a far cry from his days as a nonathletic Southern California teenager with a paralyzing fear of heights and a passion for electronics. As an adult, he gamely took his own son skiing, even though his knees were shaking every time he boarded a chairlift.
"It took a while for me at first. I didn't like skiing at all," he admits. His fear of heights gradually diminished and skiing got to be great fun, he says. Then, in the late 1990s, he struck up an unlikely conversation with a snowboarder.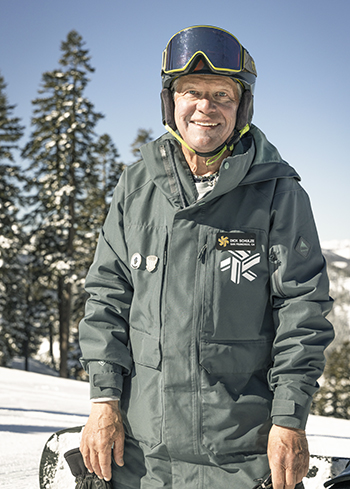 He'd previously written off snowboarding as something for young people, and rowdy ones at that. "Most of the snowboarders I saw were teenagers, and many of them were not very well behaved. It gave me a negative impression of the whole thing. Then, one day on a chairlift, I met a fellow who was obviously well past his teen years who was snowboarding. I commented on that. He said that he used to ski, tried to snowboard once, and loved it so much that he never went back to skiing. Well, it got me curious," he recalls.
In 1998, ready for a new challenge, Schulze gingerly strapped onto a snowboard and was hooked.
"There was just something about the way it moved that I instantly loved," he says, like riding a wave on land. (Schulze also surfs and skateboards in his spare time.)
Schulze has always been guided by curiosity: He attended MIT as an electrical engineering major, buoyed by his experiences tinkering as a TV repair technician during the summer while in high school. It was a happy time: As a freshman, he lived in a triple room at Baker House with classmates he's still friends with today and studied under Amar Bose '51, SM '52, ScD '56, the founder of Bose Corp. He was also a cadet in the Air Force ROTC, and he hung out with other Bakerites at the English Room, a popular restaurant on Newbury Street.
But instead of pursuing an engineering path following his time at MIT, he felt drawn toward law school, graduating from the University of Chicago Law School and becoming a military lawyer in the US Air Force for five years before going into business law in San Diego. 
And then hot dogs unexpectedly sent him off in a new direction, much as a snowboard would years later.
"I was representing one of two hotdog vendors at the San Diego County Fair who got into a spat over the trade dress of their hotdog stands," he explains. "That case was so much fun that, for the first time, it really got me seriously interested in intellectual property. I started studying patent law and found that it was absolutely right up my alley."
He joined Hewlett-Packard's corporate legal department, handling intellectual property cases and supervising a staff of attorneys in the Bay Area, Colorado, and Singapore while teaching snowboarding on the weekends and collaborating with his former wife in raising their two children. 
Today, he still practices law part-time, but powder is his passion. He spends about 100 days a year on the snow, from New Zealand to France, Switzerland to the southern tip of Argentina, and Canada's Whistler Blackcomb. As an athlete, he's at the top of his game, even competing in the 2006 Olympic Qualifiers against snowboarding legend Shaun White. In 2000, his first year of competition, he placed third in his age group in the US Nationals. He held first place for three years running, although he'll tell you that "over the years, I've placed in every position from first to last." As a teacher since 2001, he's also a relatable guide for fellow late bloomers.
"It's all about getting over your fears. One of the biggest fears that people have, particularly adults, is that they're going to look foolish in front of other people. And the first answer is, 'No, you won't look foolish.' And secondly, everybody else up there has the exact same fear," he says. 
He also insists that anyone can learn at any age (although he advises against teaching one's own spouse, kids, or grandkids: "Instant disaster! Emotions get in the way," he chuckles).
 "You don't have to prove anything to anyone," he says. On the slopes, that is: As an MIT educational counselor, he interviews hopeful MIT applicants every year while on flat land.
"I like that it helps me to stay current," he says.
Filed Under