10 Questions with MIT Olympian Pat Antaki '84
Filed Under
In February 2002, 38-year-old Patrick Antaki '84 was—by his own account—fat and bored. And then he watched the skeleton events at the Winter Olympics.
Four years later, Antaki represented Lebanon at the 2006 Winter Games in Turin, Italy, and was the first MIT alumnus to compete in the skeleton at the Olympics. (AJ Edelman represented Israel in the sport in 2018.) The oldest competitor in the men's skeleton, he finished in 27th place.
Now an entrepreneur and engineer living in Texas, Antaki answered 10 questions about his motivation, his training, and his surprising coach.
What's more difficult—graduating from MIT or qualifying for the Olympics?
That's a tough one—both were four-year projects and required complete commitment. But Olympic training was a full-time activity for four straight years.
You took your first skeleton run in 2002 and competed in the Olympics in 2006. When you began training, did you believe you would take it that far?
I was looking for a challenge outside of the scope of anything I had done before—something I wasn't confident I could achieve. I did some research after watching the '02 Games. I fell in love with it—complete adrenaline rush! I realized there was potential to go further and I set a goal to qualify for the Olympics.
The Olympic Village is like freshman year at MIT—the big deal is actually getting there. Once you get in, you're really excited.
In MIT Technology Review in 2006, you wrote, "The U.S. Bobsled and Skeleton Federation …politely snubbed me, which made me all the more determined." How did that give you more resolve to keep going?
It was a good thing—it gave me more motivation and I wasn't subject to U.S. regulations. Since I covered my own expenses and have dual citizenship with the U.S. and Lebanon, it was easy to receive approval from Lebanon.
You have an MIT degree in electrical engineering and built and installed accelerometers, gyroscopes, and cameras in your sled. How did that help?
I quickly realized that there was no science developed for the sport. Most people had no idea what they were doing. The technology helped me review my practice runs. I also ran wind tunnel tests that helped determine that my body was crooked (during runs). After the Olympics, I was able to sell the sensors and software I had built to the Canadian National Team.
Qualifying for the skeleton in the Olympics is a two-year process. Was there any point during training you felt like you might not qualify?
Qualifying is based on points earned during the previous two race seasons and there is a limited number of slots. It was a 100 percent year-round commitment—lots of time away from home. Not even the top athletes know if they will qualify until the last race. I kept a clear vision of the end-goal. I was lucky to achieve it but it could've easily turned out differently.
Did you have any coaching?
I got a lot of help and advice, especially from the United Kingdom. Technically, my son was my coach! He was 16 at the time and accompanied me to the Olympics. Although he didn't do much coaching (laughs).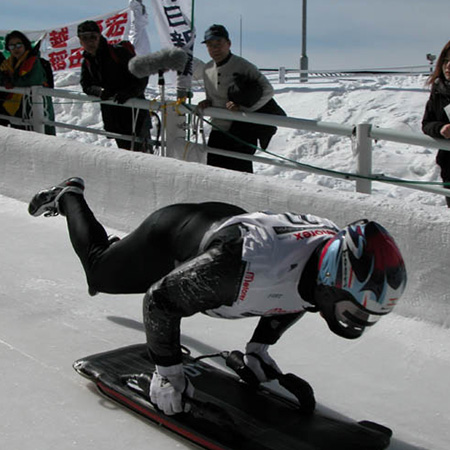 Can you describe the experience of living in the Olympic Village?
It's like freshman year at MIT—the big deal is actually getting there. Once you get in, you're really excited. There were thousands of people from all over the world in one community for a couple of weeks—it was great.
The average Olympic skeleton race is about one minute, lying face-down and going about 80 miles per hour with no brakes. What do you concentrate on during a race?
The speed you don't notice—what you feel are the turns. You don't see anything except what's barreling in front of you. The velocity of the run is strictly due to how fast you sprint at the beginning. Once you're on the skeleton, you focus on control.
Is there anything different between a regular run and an Olympic run?
The biggest difference is that, during practices, there is no one around. During the Olympics everyone is watching. My first Olympic run was terrible. I was not mentally ready for the crowds and cameras. I reflected between my first and second run. I made it a point to be more mentally ready and my performance showed it. My second run was better (nearly two seconds faster).
Your Olympic story is atypical. Aside from a mastery of the skeleton, what's the most important thing you gleaned from your Olympic journey?
Ignore conventional wisdom that says you shouldn't be there because it doesn't matter. People were laughing at me when I started. I was 50 pounds overweight—they called me the Lebanese Tony Soprano! In the end, I competed in the Olympics when a lot of other people didn't.
Read more about the history of MIT alumni in the Olympic Games.
This story was first published February 11, 2014. 
Filed Under