WMBR Reunion: Still Spinning at 50
Filed Under
Okay, so MIT's radio station WMBR is digital as well as disks these days, but the campus station celebrates a 50th anniversary this spring and they are throwing a party. Former DJ's and station members are invited to come home to a reunion. As Kool & the Gang would say, "Celebrate good times, come on!"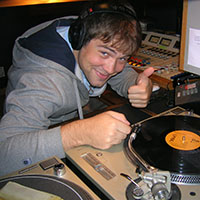 Of course many of the station's changes are good—you can hear the FM signal in most of eastern Massachusetts now. Originally, the station could not be heard in fraternity houses across the river.
And you don't  need to be nearby to listen either—go online for a streaming broadcast or download the iPhone app. You can listen online to dozens of recent programs in the archives, from Backwoods to Radio Ninja to Breakfast of Champions. For a little discography, review playlists from this week back to 1984.
Curious about the past? You can read how WMBR traces its roots back to an MIT campus-only, carrier-current AM station called WMIT, which first signed on November 25, 1946. You can learn about the evolution of the station's call letters, which finally settled on an acronym for Walker Memorial Basement Radio. The station first broadcast classical and popular music three evenings a week from a dorm basement using equipment built by electrical engineering students. Today more than 200 students, staff, and community members operate WMBR 365 days a year, 20 to 24 hours a day, programming more than 70 different shows from eclectic music to public affairs. And, naturally, the technology has advanced.
WMBR will be celebrating its 50th anniversary of broadcasting as a licensed FM radio station. The reunion is set for Saturday, April 9, from 7 p.m. until midnight in Walker Memorial. Sign up on the website to get more information about the event and peruse a photo archive.
Related Stories
Inside WMBR: Meet Joan Hathaway—Slice of MIT
Which Songs Have the Most Staying Power?—Slice of MIT
MIT Ham: America's oldest college amateur station celebrates 100 years—Technology Review
Tune In to Tech: In a 1979 deal, Ted Turner got the call letters for his media empire, and the MIT student radio station got a more powerful transmitter—Technology Review
Filed Under