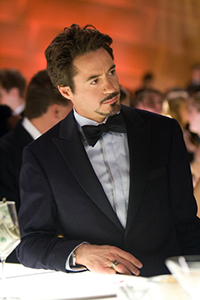 It's been established that Tony Stark is MIT's greatest (fictional) alumnus. In fact, Stark can be seen wearing his Brass Rat in multiple scenes in the first Iron Man movie. The film's director, Jon Favreau, once said of Stark, "He's somebody who created a suit using his own intelligence and sweat of his brow. I would love for that to make being an engineer cool—that  people might want to go to MIT instead of being on MTV."
A proud affiliation notwithstanding, little is known about Stark's time at MIT. His academic record is sealed and existing public information is inconsistent. MIT Admissions tentatively lists Stark as receiving his undergraduate degree in 1987 but Marvel Comics claims he received two master's degrees in engineering by age 19. Confusing matters more, a recently deleted LinkedIn profile for Tony Stark indicated he received doctorates in engineering physics and artificial intelligence.
These contradictory statements lead to one question: Just who was Tony Stark during his time at MIT?
Boston.com's Radio BDC blog helped answer this question earlier this week. In honor of the release of the third Iron Man film, the blog tracked down real-life Bostonians—including one former MIT director—who shared their encounters with a young Stark during the mid-80s.
A sample of the memories includes:
"I saw him a few times at the chess boards near Au Bon Pain in Harvard Square. There was this guy down there, a chess master, and you could give him five or ten bucks and he'd play you a game. A couple of times I remember [Tony] breezing in and throwing money on the table, and kind of wiping the floor with the guy."
"No one really knew him, he was just a rich kid. Everyone wanted him around, though, because he'd always bring something fun for the party."
"I remember him at after-parties on Thayer Street. He was up later than anyone else. But you could always get a ride home with him, because he always had a car."
Perhaps the most poignant recollection comes from Henry Jenkins, the former co-director of MIT's Comparative Media Studies.
From "Bostonians sharing their memories of MIT class of '87 grad Tony Stark:"
"Some students are larger than life—they leave a trace across the entire campus, and people talk about them well after they have left the building, so to speak. Stark was one of those people."
"And don't get me started about the hacks that have been ascribed to Stark through the years. I have heard all kinds of claims about what Stark put on the Great Dome to the ways he rewired the elevators in the Green Building. They can't all be true, can they?"
Read more about Tony Stark's (fictional) time at MIT on the Radio BDC blog. Thanks to Harbo Jensen PhD '74 for contributing to this story.
Filed Under