Whether you grew up wanting to try on a robot-suit like Sigourney Weaver's in
Aliens, 
or one more like Robert Downey Jr.'s in the
Iron Man
series,  you'll be pleased to learn of the work of MIT Professor Gareth McKinley PhD '91.
Such full-body, superhuman armor may be only two or three years away, as a report this week on the U.S. Special Operations Command suggested.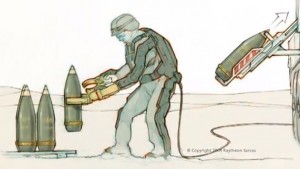 McKinley's work on liquid armor has captured the imagination of U.S. Armed Forces researchers who want a way to protect soldiers during intense combat and routine patrols in places like Afghanistan or Iraq. In such places, simple, centuries-old gunpowder technology still rivals that of an advanced modern military.
At a conference in May, U.S. Navy Admiral Bill McRaven challenged researchers to design a better suit, one that would essentially function as a "practical exoskeleton," protecting soldiers from bullets and shrapnel, using a combination of nanotechnology and Kevlar. Called TALOS, or Tactical Assault Light Operator Suit, the armor would have to be light enough for infantry to wear in battle and stealthy enough for surveillance.
McKinley and others are taking up the challenge. Much of McKinley's work has focused on rheology, or the flow of unusual materials. Understanding the way liquids can be elastic–or even solid–under certain circumstances has helped improve stability in car suspensions, skin care products, and now, body armor. Working with Professors Patrick Doyle and T. Alan Hatton at the Institute for Soldier Nanotechnologies, McKinley has focused on such innovations since 2002.
"It sounds exactly like Iron Man," McKinley told NPR. "The other kind of things that you see in the movies I think that would be more realistic at the moment would be the kind of external suit that Sigourney Weaver wears in Aliens, where it's a large robot that amplifies the motions and lifting capability of a human."
Private firms like Raytheon have been at work on robotic exoskeletons for some time, and the promise of such technology has also given hope to mobility-impaired veterans and civilians.
"The acronym TALOS was chosen deliberately," McKinley adds. "It's the name of the bronze armored giant from Jason and the Argonauts. Like all good superheros, Talos has one weakness. For the Army's TALOS, the weak spot is either the need to carry around a heavy pump for an hydraulic system, or lots of heavy batteries. We don't have Iron Man's power source yet!"
The future of robotic armor may also involve wearable computing.  Bloomberg reported in June that the military has taken a liking to projects like Google Glass, also developed in part by MIT alumni, from their inception.