Watch Tech Day 2020: MIT's Covid-19 Response and Game-Changing Research
Filed Under
The annual Technology Day symposium, held during MIT Virtual Tech Reunions on May 30, 2020, took as its topic Geniuses and Game Changers. Four prominent MIT researchers shared details of their work in areas including food safety, nanomedicine, reverse-engineering artificial intelligence, and new Alzheimer's treatments.
Before diving into these presentations, an opening session addressed how MIT is responding to the challenges of the Covid-19 pandemic, which caused most of the campus community to disperse in March. Above, watch the conversation led by MIT Alumni Association president R. Erich Caulfield SM '01, PhD '06 with Institute president L. Rafael Reif; Maria Zuber, vice president for research and E. A. Griswold Professor of Geophysics; and Sanjay Sarma, vice president for open learning and Fred Fort Flowers (1941) and Daniel Fort Flowers (1941) Professor of Mechanical Engineering. The trio of leaders shared with attendees a few of the many ways that members of the campus and alumni community are working to respond to the virus, how the Institute is approaching research and education during a time of social distancing, and how planning is taking shape for the coming academic year and beyond.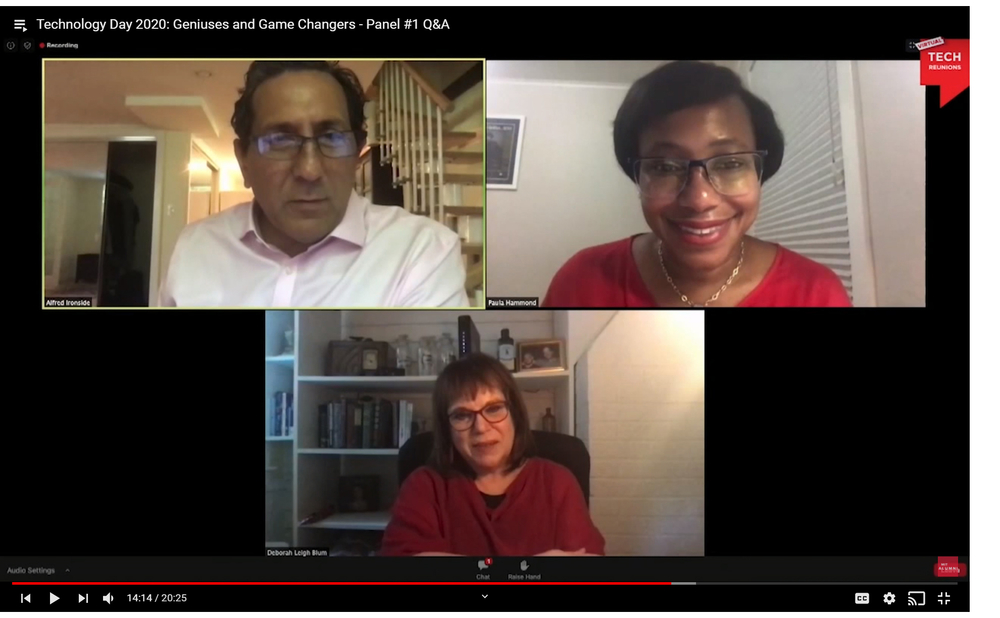 Following that discussion, a pair of sessions—moderated by Elizabeth Bramson-Boudreau, CEO and publisher of MIT Technology Review, and Alfred Ironside, vice president for communications at MIT—featured four researchers whose talks and Q&A segments can be found in the video playlist above:
Deb Blum

, director of the Knight Science Journalism Program at MIT, shares research from her book The Poison Squad: One Chemist's Single-Minded Crusade for Food Safety at the Turn of the Twentieth Century—looking back at a time when food was among the top 10 causes of death in the United States. She answers audience questions including how to assess the safety of

imported versus domestic foods, and what more can still be done to protect today's consumers.

Paula Hammond '84, PhD '93

, David H. Koch (1962) Professor in Engineering and head of the Department of Chemical Engineering, discusses the development of nanoparticles

that could revolutionize cancer treatment. These "sticky" particles include an outer layer designed for stealth—using a surprising ingredient best known for moisturizing skin—as well as layers designed for penetrating cells, weakening tumor defense mechanisms, and delivering drugs.

Josh Tenenbaum PhD '99

, Paul E. Newton Career Development Professor of Cognitive Science and Computation, explains how his group is working to develop

machine learning algorithms inspired by the way children learn, including their ability to generalize from relatively few examples. His goal is to create artificial intelligence "that humans could talk to, teach, and trust, the way we do with other people ... AI that makes us actually smarter and better off.

"

Ed Boyden '99, MEng '99

presents on "Tools for Analyzing and Repairing the Brain." These include a method of using swellable materials—not unlike the material from a diaper—to enlarge brain cells for study and the exploration of how to treat Alzheimer's disease by activating brain cells with light. Boyden is professor of biological engineering and brain and cognitive sciences at the MIT Media Lab and McGovern Institute, and Y. Eva Tan Professor in Neurotechnology.
Watch the videos above, and look for more archived sessions from Virtual Tech Reunions, on the MITAA YouTube channel.
Filed Under