Video: Urban Musical Instrument Goes to School
Filed Under
The latest urban musical instrument created by Christopher Janney SM '78, an artist, musician, and architect, greeted students at a Cambridge MA public school in January. These days students can walk down a hallway and touch or wave at a 7x32-foot panel that, in response, produces light, harmonic tones, indigenous bird songs, and forest sounds. The piece, titled
Light Shadow MLK
, makes the young teens, a notoriously tough crowd, laugh out loud.
Janney particularly likes working in schools and hospitals. His master's thesis, created when he was studying environmental art with Otto Piene at the MIT Center for Advanced Visual Studies, was a prototype of Soundstair, the responsive musical experience he has since created at Boston's Museum of Science, Boston Children's Hospital, and elsewhere. Kids and parents, the frisky and the ill, find a moment of delight as they produce music walking up and down the stairway.
Light Shadow MLK, located in the Martin Luther King, Jr. and Putnam Avenue Upper Schools, contains a riddle, a device he has used in other interactive architectural pieces. When the students solve the riddle, they are rewarded by a spontaneous dance of light and sound resounding from the wall, a grid that holds 200 sensors, LED lights, as well as 16 audio speakers.
"As long as I've always been making interactive sound and light installations, there has always been an educational component, especially in an academic environment. In a sense, the interactive work is a catalyst for education, using the instrument almost as a laboratory," he says. The project is designed so that students will be able to experiment and reprogram the wall, which was funded by the Cambridge Arts Council's Percent for Art program.
"Using art as part of education, that's probably what intrigues me the most and where I find the most alignment with my own work," Janney says. "Art is not just something solitary sitting on a wall, but, as artist Marcel Duchamp said, it only completes itself when it becomes part of the world."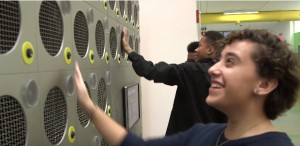 His interactive pieces include diverse components: steam, water, dance performances, musical fire-stacks, computers, synthesizers, and all manner of building materials. His projects, which he describes as making architecture more spontaneous and music more physical, include Turn Up the Heat, the design of the Miami Heat scoreboard and season opener performances; HeartBeat, a dance performed by Mikhail Baryshnikov to a musical score based on the human heartbeat; and Sonic Forest, an arrangement of 25 eight-foot columns outfitted with photo sensors, lights, and loudspeakers that has toured urban plazas in the US and abroad.
When Janney turned on Sonic Forest the first time, he found he had created a human-scale forest and a 25-speaker surround-sound system. And, as with all of Janney's projects, he learned from the artwork itself.
"When you finally get it built and first turn it on in the real world, it's far more powerful than in your dreams," Janney says. "And it starts to teach you."
Visit Janney's website to explore his work.
Filed Under