Food spoilage and high costs of farming were top concerns among the teams presenting ideas at the
Rabobank-MIT Food & Agribusiness Innovation Prize competition
this year.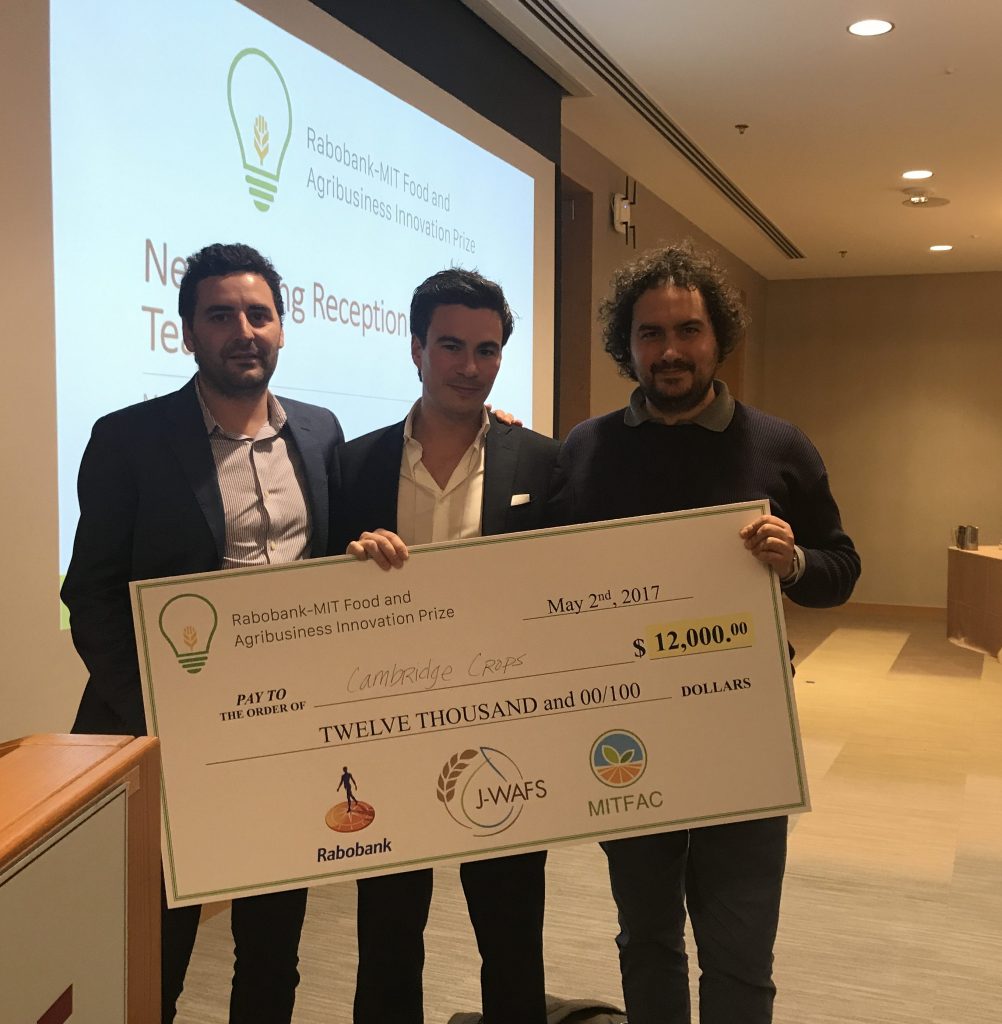 Finalists included a team trying to normalize the consumption of algae to combat environmental degradation, as well as a team that created a spray to help farmers reduce their pesticide use. But the top prize went to a group that got a little help from a protein fiber that's been in use for thousands of years—silk. Cambridge Crops, an MIT-Tufts team, won the competition with their use a of a silk fibron to coat fruit and extend shelf life.
The fibron technology is based on research done at Tufts by Benedetto Marelli, now the Paul M. Cook Career Development Professor in MIT's Department of Civil and Environmental Engineering, and his colleagues. Marelli and fellow researchers found that when applied as a coating to strawberries, the silk fibron could extend the shelf life of the fruit by 50 percent.
The fibron—which is 99 percent water and one percent silk—is virtually undetectable, explains Jacques-Henry Grislain SM '16, CEO of Cambridge Corps. "The coating is one-tenth of thickness of hair, has no taste, and prevents oxidation and the ripening of fruit," Grislain explains. The fibron coating acts as a protective barrier and is an alternative to current means of extending shelf life, like cold storage and 1-methylcyclopropene, which blocks the ethylene that triggers fruit to degrade.
Grislain says that while Cambridge Corps aims to make the coating a global commercial product, the team is hoping to have the greatest impact on the developing world, where 30-50 percent of food is lost, often to spoilage. "Look at cassava, which is an essential part of the diet in many parts of the world. It goes bad in just a few days," he explains. "We hope the fibron can reduce food waste."
After winning the Rabobank-MIT Food & Agribusiness Innovation Prize as well as the Tufts 100k New Ventures Competition, the next challenge for Cambridge Crops is bringing their idea to market.  "I have this vision that Cambridge Crops will be the commercializing arm for new innovation dedicated to the food industry," Grislain says.
For now, the company is working through the FDA and continuing to experiment with the product, but Grislain is already looking to address more issues in agribusiness and food. "This is just the first product, we need to have it approved, but then we scale up and move onto the next challenge," he says.
Filed Under