Hemant Taneja '97, MNG '99, SM '99 is the author of Unscaled: How AI and a New Generation of Upstarts Are Creating the Economy of the Future, published this spring. In it, Taneja offers a venture-capitalist's perspective on artificial intelligence and the radical changes it has already brought to the world. Listen to a podcast interview with Taneja about the book.
Taneja, a managing director at General Catalyst, has a proven track record of investing in companies and entrepreneurs whose products and platforms are at the cusp of advances in AI. Moving to the Bay Area in 2011 to open GC's Silicon Valley office, Taneja has witnessed the transformation wrought by this technology firsthand.
(Read the episode transcript.)
"It was remarkable to see that instead of selling software to major industries like healthcare, insurance, and financial services, the entrepreneurs were starting to reinvent these industries," Taneja says. "And they were using AI and data and a lot of the platforms built in the past decade. That's what got me thinking about whether we're in the midst of a technology cycle or a fundamental or secular change in the economy. Those thoughts led to my writing the book."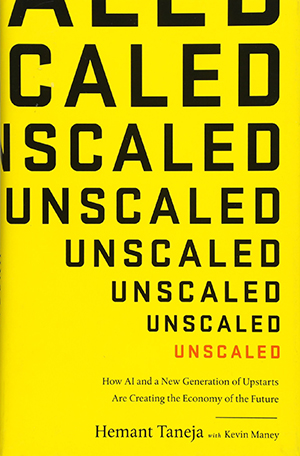 Taneja's book argues that the greatest impact of AI, for better or worse, will be the "unscaling" of some of the greatest and largest 20th-century industries in America.
"Scale was always the key measure of progress," says Taneja. "We scaled hospitals, power plants, corporations and healthcare and it served us very well. But if you look at that system today, do we really think the healthcare system is viable? Do we really think the education system is preparing our kids for the 21st century? Is our government working? I'll let you answer that yourself."
Instead, Taneja argues, the best companies and entrepreneurs are designing the most personalized, individualized technological solutions for individuals at the consumer level. With chapters devoted to discussing healthcare firms like Livongo and Color Genomics, payment portals like Stripe and consumer brands like Luxottica and Netflix, Unscaled offers a glimpse into what the near-future economy may look like.
Listen to the complete podcast here then visit the MIT Alumni Association on SoundCloud to hear all episodes of the Slice of MIT Podcast.