Unfinished Business: Remarks to the Black Graduates of 2021
Filed Under
On April 24, the annual Black Alumni/ae of MIT (BAMIT) Black Graduate Celebration was held virtually to celebrate the Class of 2021. The speakers included Patrick Gerdes '84, BAMIT program chair and BGC chair; MIT President L. Rafael Reif; MIT Alumni Association CEO Whitney Espich; poet AudreyRose Wooden '21; William Jackson MBA '21, co-president of the Black Graduate Student Association; Danielle Geathers '22, president of the MIT Undergraduate Association; and Holly M. Carter PhD '77, BAMIT president.
The keynote address for the ceremony—the text of which appears below—was delivered by Adriane Brown SM '91, who earned her master's in management from MIT as a Sloan Fellow and is a managing partner at Flying Fish Ventures in Seattle.
---
Congratulations, Class of 2021. I'm honored to stand before you this afternoon as part of the Black Graduate Celebration. Pondering the invitation, my first thought was: "Wait, what? Follow three student speakers?" I knew, categorically, they would bring it. No pressure, right? And bring it they did.
Next, I thought about you and your unique experience as a graduate of MIT—as a student of MIT, and now a graduate. I thought about your journey to come here, to do the work, to handle it all, to complete. You faced many challenges and overcame whatever was necessary. You are here. Congratulations.
Many have shared your journey—family, friends, colleagues, TAs, professors, advisors, deans, administrators, and the mentors and sponsors who, too, feel pride over this accomplishment. Then, there are your fellow students, those who shared this journey with you. Some made you laugh. Others made you cry. Some helpful, others annoying, each with their unique story. These are your people.
Robert Taylor, an architect, was MIT's first Black graduate in 1892. Imagine what it would be like at MIT during that time, the onliness. Without his shoulders, where would we be? No matter the path you take leaving MIT, stay connected to your people and this place.
I've been thinking about the world you are graduating from, and intensely about the world you are going into. Then it hit me like a ton of bricks. This is not the world you deserve. At my graduation, I would never have forecasted this past year, not just the pandemic and all that it encompassed and laid bare. It's our society, where racism, violence, domestic terrorism, and systemic injustice are still so present. Yet I never concede or underestimate our power to fix it.
This past Tuesday [when the verdict was delivered in the trial of the police officer who killed George Floyd], I witnessed what Dr. King said: "The moral arc of the universe is long, but it bends toward justice." Guilty, guilty, guilty. After the tears, I found myself frustrated to still be here. The work, Black Lives Matter, civil rights, voter rights protests, and the marches, all bring us here. We have unfinished business. We all know a Minnesota jury's decision was bigger than the case. It was a tipping point, a long time coming, a signal that a change is going to happen. We shall overcome. Not I can't breathe; no justice, no peace.
But still, we haven't fixed the really sticky parts of racism, the kind that gets built in, is hidden, until it stings its target. Systemic racism jeopardizes our safety and security. And it can and does take lives. Oh—we've got unfinished business.
What do we do? Hell, we have MIT degrees. We rise to the occasion everywhere we go, everywhere we are. So here's some food for thought to help us on this mission of handling unfinished business.
The best approach to taking risk is to know your worth and surround yourself with people who complement, not mirror, your strengths. Yes, you are all that. And you have the right to be here. You belong.
Number one: Stand up for justice and equity. The history of racism in America is well documented, though not well taught. It is an inconvenient truth with deep and systemic roots, though not universally accepted. It feels like America's longest battle is the one with itself: racism. We must stand, stand up for what we believe in, for what matters. Just keeping one's head down and hoping it will go away will not work. We know this. Get in trouble—good trouble, necessary trouble, says the late John Lewis, reflecting on his life and legacy.
In 1966, I was one of five students in the first class to integrate Bellwood Elementary School in Chesterfield County, Virginia. It took 12 years for Virginia to launch this voluntary first year after the US Supreme Court ruled in Brown v. Board of Education that segregation in public schools was unconstitutional. I was good. I was getting in good trouble at an early age. I still do. I speak up and I speak out in my world of influence, from corporate boardrooms to investment decisions for artificial intelligence startups. I also tap into my circle for support and sustenance, as this is emotionally charged work. We keep each other going and growing, fueling our collective resilience. Because what we see, read, and hear, we feel. Too much racism. Stand up for justice and equity.
Point number two: Take risk. You are embarking on your next body of work. And I can imagine the excitement, mixed with an appropriate level of nerves, over the uncertainties and choice points as you move ahead. But let me give you some context. President Barack Obama said [in a 2020 virtual commencement address at a ceremony for graduates of historically Black colleges and universities], "You've got more road maps, more role models, more resources than the civil rights generation did. You've got more tools, technology, and talents than my generation did. No generation has been better positioned to be warriors for justice and remake the world."
Yes, more tools, technology, talents. It's safe to play it easy, to avoid conflict.
However, the best approach to taking risk is to know your worth and surround yourself with people who complement, not mirror, your strengths. Yes, you are all that. And you have the right to be here. You belong.
It is said that big risks yield big rewards. This is generally true. But you must find your sweet spot for risk, motivated by justice and equity. I am inspired by the voice of our own Joy Buolamwini SM '17 on the dangers of bias in decision-making software. She told big corporations the error of their ways, did a TED Talk, testified before Congress, and so much more. Her work at the Media Lab and her founding of the Algorithmic Justice League fights systemic injustice by calling out bias in AI. Her work is helping to stop the spread of digitized racism, that, unchecked, could affect every aspect of our lives.
In all you do, know your worth. Take risks to help the world in your own way.
The last piece of unfinished business: Be nice. When I was a third grader integrating schools in 1966, my mother gave me the same instruction every day as I walked out the door. "Be nice!" She's 94, and she still says it to me today. Why be nice? Isn't it a contradiction with "stand up"? I came to realize "be nice" was not an action phrase as much as it was a state of mind. It was Mom's way of instilling in me the choice of being centered in kindness versus the alternative in any situation I might face. Nice was Mom's antidote to confrontation. But nice is not passive—rather her way of reminding me of the importance of treating everyone with dignity and respect.
We've endured so much in this country. And we stand in solidarity. We gather to celebrate you, to reinforce that you do not go out into this world alone. "Be nice" is our part of the golden rule. A reminder to treat others as you wish to be treated. To serve as an example of what should be.
In the refrain of the Black National Anthem are words that have inspired me since the very first time I heard them. "Let us march on till victory is won." It represents our historical struggle. And unfortunately, it is still too relevant today. Let us march on until we're done. Be nice—it is the humanity of unfinished business.
On April 24, 1991, I was sweating the details of my master's thesis. It was signed nine days later. I researched Black women in corporate America, the personal price of success. I was dreaming of a big and bright future. I spent 30 years in corporate America. That was the breakout career. Now, you can break out in any field of study. But there is much more to do before we fully exist in the America we deserve.
There is no better time than now to create a better world. We have the power to drive change with our collective resilience. My message today has been one of pride, self-reflection, blunt reality, calling for action on our unfinished business. Stand up for justice and equity. Take risk, knowing your worth. And be nice, because Mama said so.
Science enables us to identify and know our constants, and to know those constants for guidance. You have constants: your family and friends, colleagues and classmates, your supporters, the shoulders of ancestors. You have your truths. And you have MIT.
Graduates, you strengthen our collective resilience. Together, let us get at this unfinished business for a better world.
But before we do so, to the Class of 2021, for this moment, let us enjoy each other and the amazing accomplishments that this celebration and your graduation represent. Congratulations, graduates.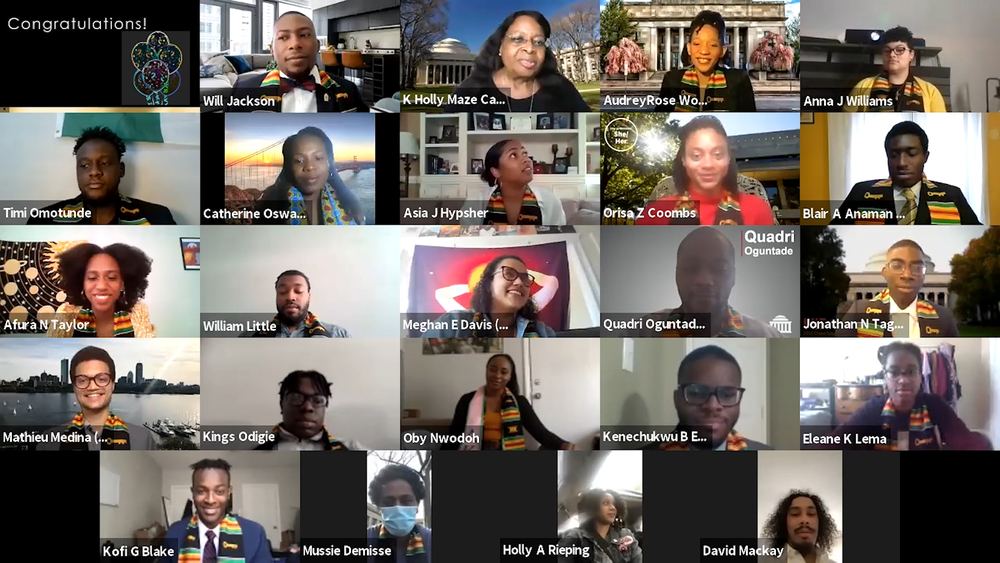 Watch the full video from the 2021 BAMIT Black Graduate Celebration.
Filed Under