Triathlon Training—Taking the Technical Approach
Filed Under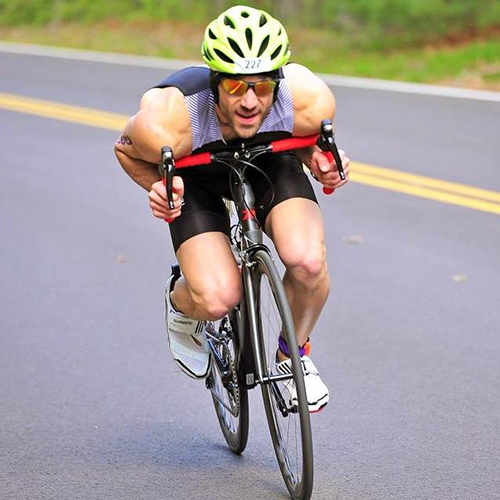 As Ely Xavier Colón SM '10, MBA '10 explains how he trains for triathlons, he can't help but preface it by saying, "I'm a little bit too technical," which is no surprise coming from someone who decided to become an engineer at age seven.
"Every time I start conversations with my family or friends, they give me a hard time and tell me to stop calculating and 'just have fun.' I tend to calculate every single piece of the race, the training, the nutrition, what you have to do if you are trying to get to this point in this time, with this power. I just think that structured way of thinking, solving problems, is what I do. We have a problem; we have to reach the finish line by this time to qualify for this or not be disqualified for that. So what are the things that need to happen. It's a little bit of reverse engineering."
His reverse engineering looks something like this: "For every race I set a time goal for each leg (swim, bike, run). Before each race I research weather forecast; specially precipitation, temperature, and air humidity. Based on those factors and my fluid and electrolyte loss rate (I went to a lab to analyze my fluid and electrolyte loss) I know my baseline rate and can extrapolate to a certain degree of certainty my loss based on those weather variables. Then I research the bike profile route. Based on how much power I need to produce, and as a function of these factors; 1) weather, 2) bike route profile, and 3) fluid-electrolyte loss, I calculate how much fluids, salt caps, and carbs I have to take on my bike, to have a solid bike split and run. So I reverse engineer my pace, based on the analysis of all these factors."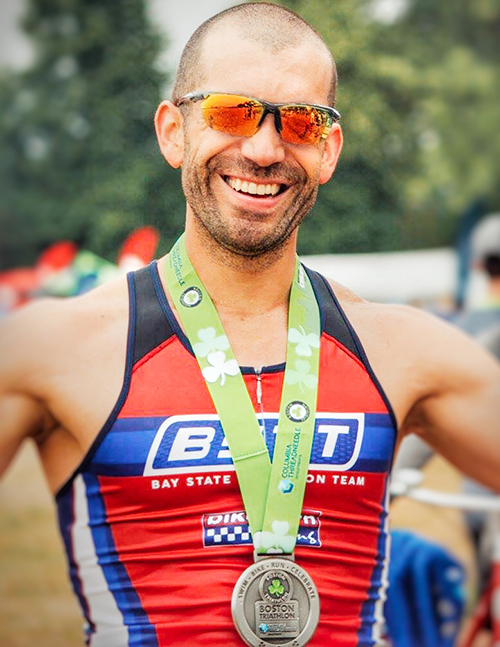 And the tactic is working for Colón, who—after his finish at the Cohasset Triathlon in June—qualified for the 2016 USA Triathlon Age Group National Championship in Omaha. "I was not expecting anything related to the national championship," says Colon, who didn't get an email notifying him of his qualification until a few weeks later. He was especially surprised considering that it was only just over a year ago that he did his first triathlon.
Colón, who got back into sports just to have a healthier lifestyle, started with a 5K two years ago and has since done bike races, triathlons, and even a half iron distance triathlon, with plans to do an ironman next year. "I just kept seeing progress," says Colón. "In sports, because you can keep track of progress it's easy to measure a lot of stuff. I was seeing that progress and I got really excited about it."
Although he grew up as an athlete, a soccer goalie, Colón admits that he enjoyed that position in large part because he didn't have to run. Now, he spends 10-13 hours a week training in swimming, biking, and running and although running still isn't his favorite, the progress keeps him motivated. "Out of the three disciplines, it's still my least favorite. But going from a goalkeeper to last year I ran my first marathon—it feels great. Just being able to see and measure the progress it just made me realize that the only restriction you have between what is and what could be is your mindset, yourself; if you say you can, you will do it."
Along with the right mindset, Colón attributes his success to self-discipline and his family. "Balancing family, work, and training requires tons of discipline, early mornings, and a supportive family."
On August 13, Colón and his wife, Ginnette, and son, Mateo, will head to Omaha for the national championship and, if he finishes in the top 18, he will qualify for the 2017 Olympic/Standard Triathlon World Championships in the Netherlands.
Colón, who grew up in Puerto Rico, came to MIT because he wanted a graduate program with a perfect mix of business and technical—and though he planned on moving back, Boston quickly became his home. He has worked as a consultant since graduating from MIT, and today, is a senior consultant with Vantage Partners.
Filed Under