Training Tomorrow's Leaders: John Kotter's Keynote Speech at the Annual AILG Annual Meeting
Filed Under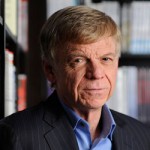 If you asked Professor John P. Kotter '68, SM '70 about his personal hero, he wouldn't hesitate: Nelson Mandela. Kotter opened his keynote speech at the Association of Independent Living Groups (AILG) Annual Meeting by describing Mandela's impact as a leader; Kotter credited that success in part to Mandela's close friendship and collaboration with his political mentor, Walter Sisulu.
Kotter's emphasis on the importance of mentoring future leaders fit the atmosphere of the AILG event, at which alumni belonging to MIT fraternities and sororities had gathered to discuss their plans for the coming year. The list of initiatives for the meeting included items like "provide educational guidance for leadership development" and "foster undergraduate mentoring programs". AILG members often aid current MIT fraternity and sorority members by doing publicity during pledge weeks and by teaching undergrads how best to perform leadership positions with their chapters, like treasurer, vice president, and president.
In his speech, Kotter also fondly recalled his MIT undergraduate years in Sigma Phi Epsilon, emphasizing his hope that the AILG members would find more ways to inspire the younger generation to lead.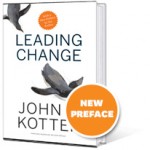 Kotter, author of international bestseller Leading Change, as well as 16 other books, is an expert on business and leadership. In 1994, he wrote an article for the Harvard Business Review that analyzed why businesses often fail in their attempts to make overarching changes. Kotter noticed eight common errors, such as "allowing too much complacency," "under-communicating the vision," and "declaring victory too soon"; he used his observations to craft an 8-step plan for how to better instruct business.
In 2012, Kotter re-released Leading Change with a new preface about how "the speed of change continues to increase". Modern businesses have had to adapt to new technologies faster and faster each year, and Kotter believes that this makes leadership training all the more invaluable.
"Task forces, 'work-streams,' and project management organizations are still the most common vehicles used to drive significant change efforts. These structures can help, but … they simply don't have sufficient power for an extremely difficult set of tasks," writes Kotter in the 2012 preface. "Leading change competently is the only answer."
Kotter's updated book, Leading Change, can be found on Amazon.com.
Filed Under