Stepping on Stage with Beyoncé
Filed Under
If you tuned in for Beyoncé's headlining performance at the Coachella Music Festival this past month, you may have spotted a familiar face on stage: Joe Brown '07. The choreographer and professional dancer was among dozens of performers who delivered a show that he says was, "Everything I've been working for—a celebration of everyone involved."
For those who know Brown, his Coachella debut comes as no surprise—he's been dancing professionally for several years and even appeared with his crew as part of the NBC's World of Dance—but professional dance wasn't always the plan. "My goal was to be the next Walt Disney," Brown explains. "I majored in Course 2 because I wanted to design rollercoasters and to create my own theme park."
Brown's passion for dance comes from growing up with a sister who performed on Broadway. "Watching her, the love of dance just seeped in," he remembers. He began choreographing in high school and continued to build his skills as step master of his fraternity while at MIT. But it wasn't until after graduation that dance became a bigger part of Brown's life. "I joined [MIT's competitive hip hop team] Ridonkulous post-graduation and it really connected me to the dance community at large, including to the whole professional dance community in Los Angeles," he says.
Brown became a part of that community as he pursued his master of architecture at SCI-Arc in Los Angeles, balancing study and studio time with teaching dance and performing. "I would travel from my classes downtown to North Hollywood every day to choreograph my own style," he says. Brown's style combines step—where dancers use their body as an instrument of percussion and movement—with different dance styles. Coined "stroll groove," the style would fit right in on stage with Beyoncé.
As a professional dancer, Brown splits his time between teaching classes, choreographing, and professional dance jobs for video shoots and stage shows with artists like Rihanna and Nicki Minaj. So when he found out about an audition for a secret project, he jumped at the opportunity. "Word on the street was that it was for Beyoncé," he says. Weeks after the audition as other dancers found out they made the cut, Brown didn't hear anything. "I just assumed I didn't get it and was ready to move on," he says. Then the call came from Beyoncé's camp. "At first I didn't even know what show the call was for, so when they said it was for Beyoncé, I had to take a moment," he says.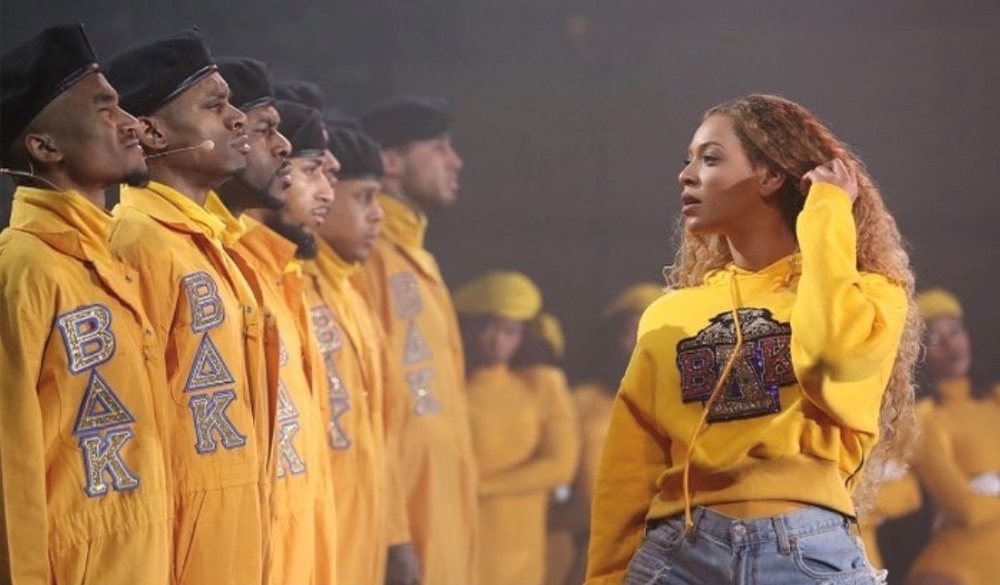 That call came in December, and soon after, Brown began contributing choreography and learning moves for the Coachella show that revealed itself bit by bit. "You're given a direction and you don't know what the whole picture looks like until you're on stage," Browns says. "Once we started doing the full run-throughs, the 'epic-ness' of it started to seep in."
That epic-ness would be a two-hour long, tour-caliber set that paid tribute to black culture, from song selections to traditions of historically black fraternities and sororities—something Brown says was especially important for him. "They created a show that pretty much represented my whole life—from the stepping to a lot of the cultural aspects, and even to some songs that my parents would play for me back in the day," he says. "It was profound."
Brown's own fraternity experience lent itself to his show, part of which included a probate stepping performance, mimicking the presentation done by new members of his fraternity, Alpha Phi Alpha. "One of my dance goals is to put stepping back on the map," he says. "This was like a milestone for people to see—it kind of hit people in the face and said 'this is it, this is what stepping is.'"
Brown says though his days are filled with dance, he's still passionate about design and gets to experience it in a different way as a dancer. "There's so many technical, cutting-edge aspects of performance and a stage—I walk around with my sketchpad drawing and think, 'One day I might love to work on an apparatus like that for my next project,'" he says. "It's like my playground."
For Brown, it's all inspiration for his next act. "That roller coaster is still going to happen. That theme park is still going to happen," he says. "But right now, I just want to spend some time with dance."
Feature image courtesy of Wes Klein.
Filed Under