From Spiderwebs to Coral Reefs, Interpreting Nature Through Music and Art
Filed Under
Creating art at the intersection of music and technology began early for composer, video artist, and MIT Music and Theater Arts lecturer Christine Southworth '02. She was just five when she joined her father's music technology business, tasked with erasing disks to free up storage space. There was a bonus: She got a chance to play with the first versions of what became MIDI (Musical Instrument Digital Interface), since her father, Bill Southworth, was one of its inventors.
"With MIDI, you can make music by almost sculpting it visually rather than writing down musical notes," explains Southworth. "Later on, I could make a piece of music almost like I could make a piece of pottery. It allowed me to write the music I wanted to hear."
These days, that means immersive multimedia pieces that combine video, electronic or prerecorded tracks, and live performance. Her most recent major project is Spider's Canvas/Arachnodrone, based on the complex webs of the South American Cyrtophora citricola spider. The multisensory installation and performance was cocreated by Southworth, fellow Music and Theater Arts faculty members Evan Ziporyn and Ian Hattwick, and civil and environmental engineering PhD candidate Isabelle Su, mentored by the head of her department, Markus Buehler.
Inspired by the work of visual artist Tomás Saraceno, Spider's Canvas premiered in November 2018 as part of Saraceno's ON AIR exhibition at Palais de Tokyo in Paris. For the live performances, Su and Hattwick played an interactive "spider web instrument" accompanied by Southworth on electric guitar and Ziporyn on EWI (electronic wind instrument). The cubic space the musicians occupied consisted of projections of a web scanned and modeled by Buehler and Su, then layered with photographs by Southworth.
During select hours from now through April, Spider's Canvas will be on display as an interactive installation at the Institute's interdisciplinary facility for nanoscale research, MIT.nano. Viewers may enter and explore the piece, essentially becoming the spider by controlling the view and sound inside the web.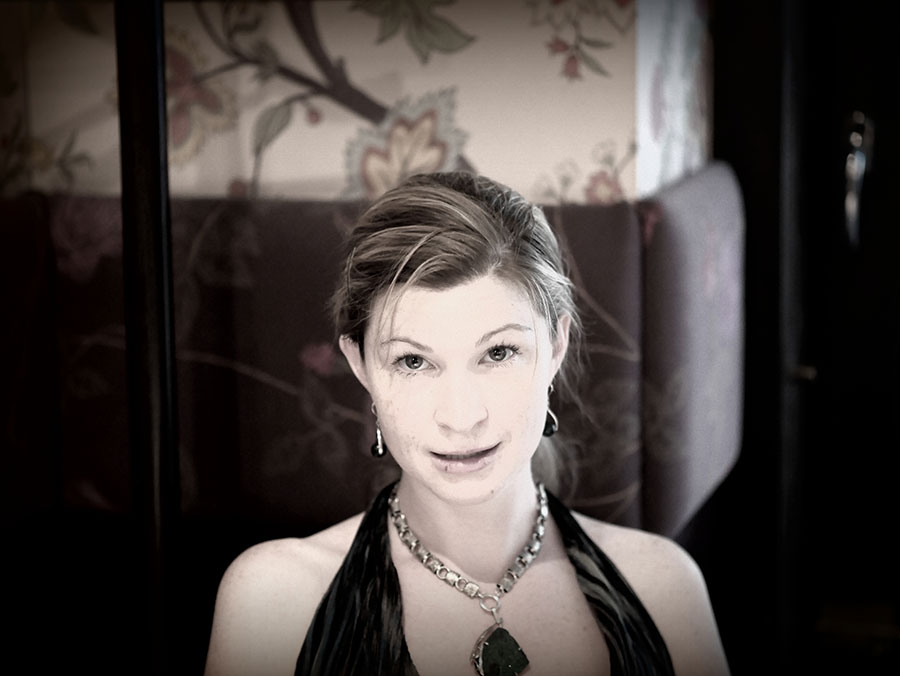 Despite her early interest in music and her eventual master's degree in computer music and multimedia composition from Brown University, Southworth was not visualizing a career in the arts when she entered MIT as an undergraduate. She began as a physics major but, finding lab work isolating, switched to mathematics. Meanwhile, however, she also took full advantage of MIT's robust music program, taking jazz and world music classes and joining ensembles including Gamelan Galak Tika, founded by Ziporyn. Southworth says she was "mesmerized" by gamelan, Balinese ensemble music played on percussive instruments.
Shortly after graduation, with Leila Hasan '00, MEng '01, Southworth cofounded Ensemble Robot, a collective of engineers, artists, musicians, and composers who built large-scale robotic instruments. One of their seminal works was Zap!, a piece Southworth wrote to perform with the Van de Graaff generator at the Museum of Science in Boston. Later, she began composing music for more-traditional ensembles, many of them mixed with gamelan. In 2010, she helped design an electronic gamelan for her piece Super Collider, which premiered at the Lincoln Center Out of Doors festival with the Kronos Quartet.
Southworth is now in the early stages of a new collaboration that will explore coral reefs in the US National Parks system with the hope of bringing more awareness to the beauty and plight of this endangered ecosystem. The project got off to an unfortunate start in 2018, when the group's custom-made 360-degree underwater camera failed on its maiden voyage during an otherwise "spectacular" dive to the ocean floor in American Samoa—a debacle Southworth refers to as their "tropical depression."
The reef project is set to resume with the addition of physicist Allan Adams, the principal investigator of the Future Ocean Lab at MIT. Adams has developed a new underwater camera that the group hopes to use to photograph the coral reefs in the US Virgin Islands. As in Spider's Canvas, Southworth will improvise with a variety of instruments to accompany the visuals. She says the project is slated to premiere at the Museum of Science's Hayden Planetarium.  
Southworth's commitment to the environment underscores her many artistic and personal projects—from the feral cat rescue (R.E.A.L. Cruzan Cats) endeavor she started on St. Croix in 2016, to her mixed media works on honeybees and endangered lemurs, to her current coral reef adventure. "I'm obsessed with protecting animals and the planet," she says. "And I want to make a difference."
Filed Under