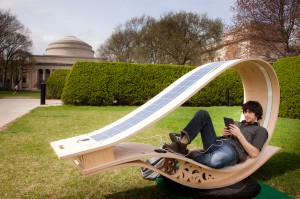 The Soft Rocker is among the treasures spawned along with the MIT150 Festival of Art, Science, and Technology (FAST). Though it glowed on campus for only a few weeks this spring, its practical potential and shapely form persist.
The rocker is a solar-powered outdoor rocking lounger where you can both relax and recharge your electronics. Developed by MIT architecture students and led by Professor of Practice Sheila Kennedy, the furniture piece uses the human power of balance to create an interactive 1.5 axis, 35-watt solar tracking system.
The lounger uses a 12-ampere-hour battery storing the solar energy harvested during sunlight hours so you can charge gadgets even after sunset.
Learn more about the Soft Rocker project and team and about  Sheila Kennedy, an expert in the integration of solar cell technology in architecture. Kennedy uses 3-D modeling software to design with solar textiles, generating membrane-like surfaces that can become energy-efficient cladding for roofs or walls. Solar textiles may also be draped like curtains.
Filed Under