Soaking Up MIT's Energy: Reflections from the Alumni Leadership Conference
Filed Under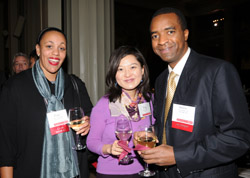 The Alumni Leadership Conference was a week and a half ago, and if you weren't able to attend, allow me to tell you a little of what you missed.
I've been working at and helping plan and market this conference for several years now, and I can say with conviction that this year's content was some of the strongest we've ever had. I'm not trying to rub it in...I'm just saying. All the stars aligned and whether touring new parts of campus, watching President Hockfield's "flyover" video that outlines campus development via Google Earth images, or learning how the News Office and MIT have revamped their communication strategies, the 450+ attendees were visibly enthused and curious and motivated by what they saw.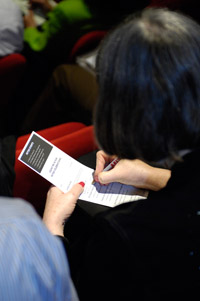 Indeed, there was a certain buzz in the air after some of the sessions, like David Mindell PhD '96 talking about plans for MIT's 150th anniversary, which begins in January. If you haven't yet heard, MIT will celebrate its sesquicentennial with 150 days of events, including symposia, art exhibitions, an open house, and, the centerpiece, a Founder's Day Convocation on April 10 so massive in scope only a couple venues in Boston could accommodate the number of expected attendees (the Boston Convention and Exhibition Center, in case you're wondering). Mindell, an MIT professor and historian, is chair of the MIT150 Steering Committee and great at generating excitement. Even I felt inspired and I've known about the MIT150 celebrations for a year now.
One of the highlights was hearing from students during the student life panel. Four seniors involved with athletics, fraternities, global service projects, and leadership training offered glimpses of their lives outside the classroom. Their presentations showcased just some of the ways students enrich their MIT experience and offered a compelling look at how student life has evolved. The students were charming and funny—so much so that one audience member was prompted to ask if they were the norm for students nowadays or the exception. Answer: the norm.
A couple photos are below but check out the ALC photo galleries for more, including one devoted to outstanding volunteers given awards such as the Bronze Beaver, the highest honor the Alumni Association bestows upon an individual. And, if you weren't able to attend, a number of the presentations are now online. They cover a range of topics, including social media marketing, alumni engagement in K-12 STEM education, the MIT Global Challenge (a public service competition for all members of the MIT community launched as part of the MIT150 celebrations), and more. You can also read the live tweets from various sessions. Look for videos to be posted in the coming weeks.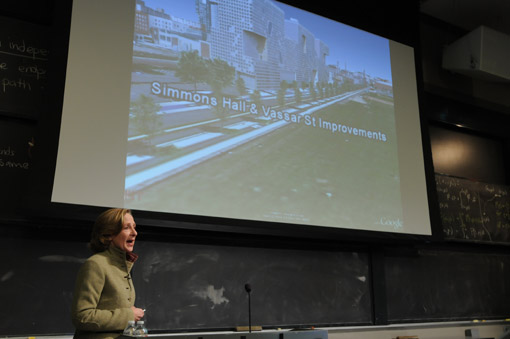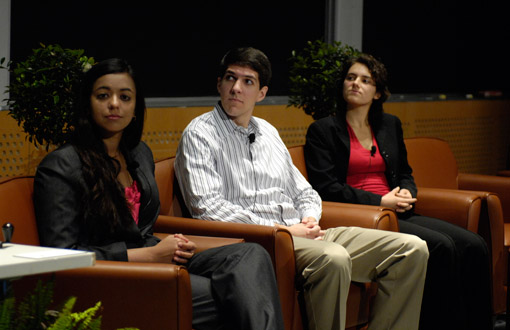 Filed Under