"Smoot" Enters the Dictionary
Filed Under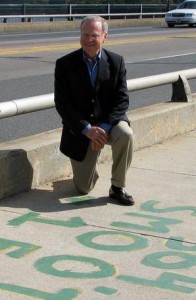 The Smoot unit of measurement has long been a Google calculation, but now the historic MIT term resides in a more conservative venue—the fifth edition of the American Heritage Dictionary just out in print—and soon to be online.
In a recent NPR commentary, Weekend Edition host Audie Cornish notes that "Smoot" is one of 10,000 new words featured in the fifth edition of the American Heritage Dictionary:
"Smoot: a unit of measurement equal to five feet, seven inches, often cited when discussing the inherent arbitrariness of measurement units; after Oliver Smoot whose height was used as the basis of the measurement."
Of course MIT folks know more history. MIT celebrated the 50th anniversary of the measuring of then-freshman Ollie Smoot '62 with Smoot Day on Oct. 4, 2008. Activities ranged from unveiling a plaque on the newly repainted the Harvard Bridge (AKA Mass. Ave. bridge)  to parties and a performance by the legendary singing group the Platters. Read more about Smoot's Legacy.
A Boston Globe article noted that other new words including "upselling,'' "manboob,'' "panko,'' and "vuvuzela.'' The dictionary, 10 years in the making, comes with free smartphone apps (also available separately) and the entire dictionary will be free online.
Scrabble, anyone?
Filed Under