Smart Body Art: Temporary Tattoos Get Technical
Filed Under
Temporary tattoos have been around since the 12th century but when MIT Media Lab PhD student Cindy Hsin-Liu Kao saw the latest trend in gold leaf temporary tattoos she did something that has never been done before—she turned them into electronic devices.
"Last summer, these temporary tattoos were becoming popular; they were in Vogue and Beyoncé was launching her own line," says Kao. "Coming from an engineering background, I saw them and immediately thought, 'are they conductive?'"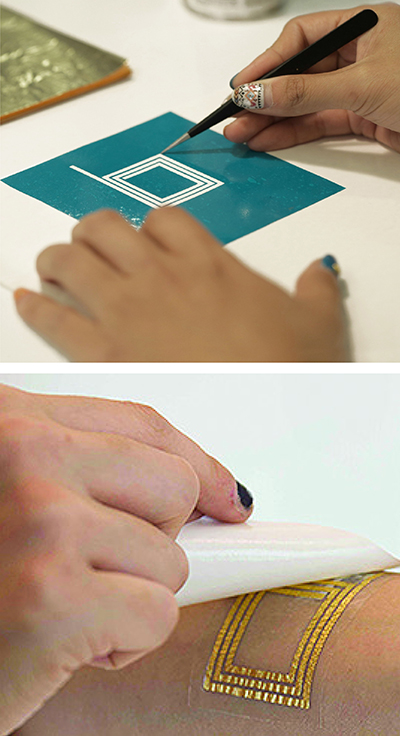 Kao, whose PhD research is focused around hybrid body craft, had already completed her second year at the Media Lab and was doing an internship at Microsoft Research so a project in smart body art was the perfect pursuit. Although Kao completed her internship, she has continued her study at the Media Lab in collaboration with Microsoft Research. "I look at existing practices of embellishing and crafting our bodies, makeup, jewelry, or tattoos in this case—embedding technology into existing practices to expand their function beyond decoration."
The result is called DuoSkin, a fabrication process that enables anyone to design and create customized, functional devices and apply them directly to their skin in the form of a temporary tattoo. It turns out, the process is pretty easy and if you like arts and crafts, Kao says, it will be right up your alley. After designing the tattoo, you simply take a cheap electronic cutter to cut out the circuitry, layer on gold leaf metal, embed the electronics which is connected to a wireless component, and put it on your skin through water transfer, just like a temporary tattoo.
Kao explained three main ways that DuoSkin can be applied, but the best part is that people can play around with the technology and explore different uses since they are creating their own original devices. "First, you can turn your skin into an input to control your devices, using it as a trackpad or slider; second, you can make it an output, so displays that could change color, show your emotion, or display information; or the third, you can use it for communication where you could store data and communicate with devices."
After growing up in Taiwan where she earned an undergraduate and master's degree in computer science, Kao is strongly influenced by her culture and tries to bring that inspiration to her work. "In Taiwan, we have very vibrant street fashion culture," says Kao. "You can very easily and cheaply change the way you look and you can look very different every single day. When I came here, I knew I wanted to bring in these elements of expression into wearable technology, converging aesthetics, function, and self-expression for interfaces that are going directly on our bodies."
For Kao, the next steps in wearables is not only making devices that are technically sophisticated but also something that reflects and enhances individuals' everyday dress and sense of style. She is also in the development stages on projects utilizing other elements like makeup and jewelry and previously co-published a paper on NailO, a fingernail sensor device.
A paper on DuoSkin will be presented by Kao and other representatives from the Media Lab and Microsoft Research at the International Symposium on Wearable Computers 2016.
DuoSkin:Functional, stylish on-skin user interfaces from MIT Media Lab on Vimeo.
Filed Under