Paige Parsons '90 has photographed Bono and Bjork, Green Day and Guns & Roses, Madonna and Morrissey.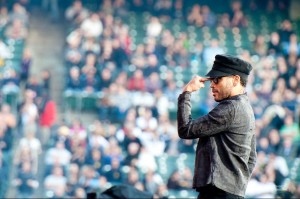 But a quarter-century ago, she was writing about rock, authoring witty critiques of bands on the Boston scene for The Tech. Parsons called an Elvis Costello show in 1989 "spectacular" but panned Love and Rockets for their "monotonous" and "painful" show at the Orpheum.
Hundreds of rock shows later, Parsons has amassed an awe-inspiring body of photography work that tells much of the stories of rock and its fans from jaded gen-x'ers to digital-native millennials.
Currently the house photographer at the Fillmore, San Francisco's most prestigious and storied rock venue, Parsons completed a retrospective of her best work in 2012, entitled Once in a Lifetime. The work appeared at her first solo show of the same name at a Palo Alto gallery last February.
"I chose to explore the relationship between fan and artist through photography," Parsons writes in her artist's statement. "Musicians may rehearse for a performance, but the fans complete the exchange of dynamic energy that fluctuates from one performance to the next; it's never the same twice."
"I hope those viewing my work will feel the unique rush of literally being between the spectator and performer. Whether a show is intimate and sparse, or in a field with ten thousand fans, my mission is to capture the intense emotion of this unique relationship."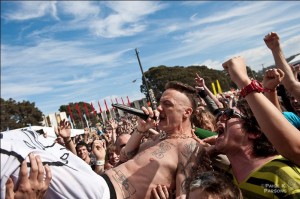 After studying art and design at MIT, Parsons pursued photography part-time while working as a user-interface designer at Apple and Netscape in the Bay Area through the 1990s. As a consultant, she has helped startups with information architecture and web design and maintained a blog, The Color Awesome, covering the music industry.
Meanwhile, her rock photography has appeared regularly in the past two decades in Rolling Stone, The Los Angeles Times, SPIN, Pitchfork, Stereogum, Crawdaddy, Prefix Mag, 7×7, and Keyboard Player. She publishes much of her work on her website and through her Facebook page.
Why the affinity towards photography over words? Parsons found part of the answer to that question in 2008, when she discovered that she was dyslexic. "Through finding out about my own learning differences, I have also come to appreciate my unique strengths and all the gifts that also come along with seeing the world from a different point of view," she says.