Robot Road Race Helps Save Lives [VIDEO]
Filed Under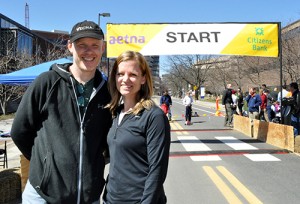 When Daniel Theobald '95, SM '98 and Deborah Noel Theobald '95 founded their company Vecna Technologies they knew that it had to somehow involve robots, technology, healthcare, and strive to take good care of the world. After 17 years, they've managed to achieve all of this and that commitment literally hit the road in April when they put on a 5 K and robot race to help raise money for their newest non-profit venture.
Their company, Vecna Technologies, first began in 1998 out of the couple's home in College Park, MD. At the time, the Internet was a burgeoning technology and many of their peers were taking advantage of that. Their vision was much bigger than the get-rich-quick opportunities that many were chasing, says Deborah. "We wanted to build a platform that could really be the launching point for taking technology and doing something good."
Vecna started off by testing the integration of services and software in the healthcare industry and has expanded to a healthcare information technology and robotics company.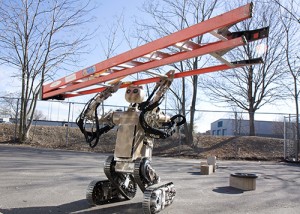 "From an early age I knew that I wanted to use technology to solve some of the toughest problems that the world is facing," says Daniel. Vecna offers a wide range of hardware and software solutions including patient information exchange systems for hospitals, an onsite robotic healthcare information kiosk, an autonomous hospital logistics self-navigating mobile robot (QC Bot), and a military robot to be used in battlefield applications (BEAR).
One of the first policies that Daniel and Deborah put in place when founding Vecna was to encourage all employees to give 10 percent of their paid working time to community service. They have since consolidated their efforts into established community service missions focusing on STEM education, open-source communities, and a global health initiative. Vecna Cares, which grew out of the health initiative, is now officially a non-profit organization and focuses on providing technology, training, and support to health systems in underserved areas and developing countries. Since Vecna Cares began in 2009, Deborah has led the organization in completing mission trips and implementing healthcare hardware and software solutions in Kenya, Tanzania, Nigeria, Sierra Leone, and Haiti as well as various underfunded clinics in the US.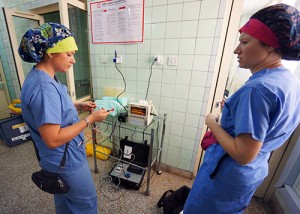 Vecna Cares offers several solutions for implementation in virtually any remote clinic, regardless of their limitations. The CliniPAK, the primary product, allows users to communicate with other clinics, input medical records, and access medical resources with no power, no connectivity, and very little computer literacy. Once these devices are in place, the benefits are limitless.
"In Nigeria, the CliniPAK was used for maternal and child health," says Deborah, "but when the Ebola crisis came, we were able to quickly push information to caregivers about what Ebola was, provide some training, and survey the clinic to report on their interactions with the virus."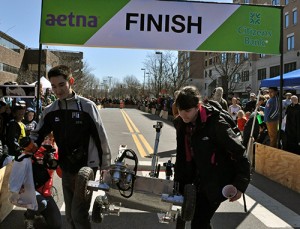 This April, Vecna Cares took the intersection of health and technology one step further with their first annual robot race, which included a human 5K and robot 100-meter dash course. With more than 200 runners and 25 robots, the event was a huge success. The race included community training sessions leading up to the event, which gave teams the opportunity to tweak their robots with the help of Vecna engineers, fostered robotics interest, and engaged the community. All proceeds from the race will fund the newest model of the CliniPAK—a total redesign that will cut the cost and size in half, making it much easier to ship and disseminate to those in need.
Zac Dydek SM '07, PhD '10, who acted as the robot safety commissioner on race day, is the director of autonomous systems at Vecna and spends his days perfecting the software that "makes the robots smart." Dydek explains that the race, like everything else at Vecna, is part of the mission to integrate robotics and technology into our lives in meaningful and impactful ways. "The direction that we're going in with robotics is something that's going to make the world better for everyone," says Dydek.
Filed Under