Richard Feynman: The Story Behind the Stamp
Filed Under
The US Postal Service announced the issue of a stamp honoring 1965 Nobel Laureate Richard Feynman '39 on August 14, 2004. The day of the announcement was the independence day of Tannu Tuva, and it wasn't a coincidence. Feynman and his friend and drumming partner Ralph Leighton had spent years trying to visit this small central Asian country near Mongolia.
It all started with a stamp.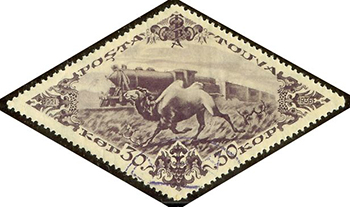 In the 1920s and 30s, Tannu Tuva's uniquely shaped diamond and triangle-shaped stamps were in high demand among stamp collectors. "Stamp designers were working away on these wonderful idyllic themes…which were firing the imaginations of kids around the world," said Leighton.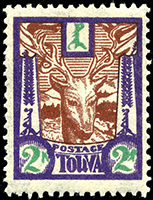 As one of those young stamp enthusiasts, Feynman became entranced by Tuvan stamps' dramatic illustrations of camels racing trains, horse wranglers, and cattle mongers against otherworldly, mountainous scenes.
Fifty years later, Leighton and Feynman had a dinner conversation about geography, and Feynman mentioned his love of Tuvan stamps. The pair decided to travel to Tuva, which turned into an 11-year quest detailed in Leighton's book Tuva or Bust! In a documentary about their plans, Feynman said of Tannu Tuva, "any country with a capital Kyzyl has just got to be interesting….we had discovered our Shangri-La."
Getting to the country was no small feat. At the time, Tuva was under the rule of the USSR and was rumored to be a testing ground for atomic bomb research. "I'm sure we were being watched," recalls Leighton. "People couldn't figure out why these guys would want to go to Tuva, especially someone who worked on the bomb." (Feynman famously worked on the Manhattan Project in Los Alamos)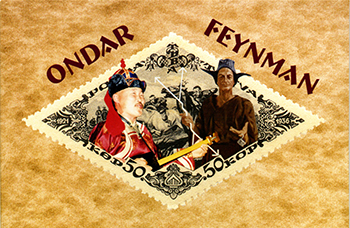 The pair learned phrases of the Tuvan language, dreamed up crossing the border from Mongolia in shepherds' disguises, acquired a rare recording of a Tuvan throat singer—Tuva is famous for this unique type of overtone music—and collaborated on a traveling exhibition of nomadic culture that turned out to be the largest ever from the Soviet Union. Feynman never made it to Tuva—he died in 1988—but Leighton and his wife were finally able to visit a few months later.
After Feynman died, Leighton launched another years-long campaign with his organization Friends of Tuva to petition the US Postal Service to honor his friend with a commemorative stamp. But not just any stamp—a diamond-shaped Tuvan stamp.
"We definitely wanted to make a connection between Feynman stamp collecting, Tuva, and a US postage stamp," said Leighton. In one tongue-and-cheek mock-up stamp they dreamed up, Feynman is dressed as a shaman holding elements of his famous Feynman diagram with Tuvan throat singer Kongar-ol Ondar.
Thousands of letters and many signed petitions later, the Postal Service ultimately decided to feature Feynman in a stamp series on American scientists.
Learn more about Feynman's lively lectures. Check out Ralph Leighton's latest project, an illustrated children's book Legends of the Groovin' Tuvan.  
Filed Under