Toasters at the company's 2016 field day.
The idea for restaurant tech startup Toast, Inc. came out of a bad dining experience. Steve Fredette '06, Aman Narang '04, MEng '06, and Jonathan Grimm '07 were eating dinner in Kendall Square. Customer service was poor, and staff were struggling with an outdated point-of-sale system that crashed repeatedly and required re-boots with an antiquated DOS prompt.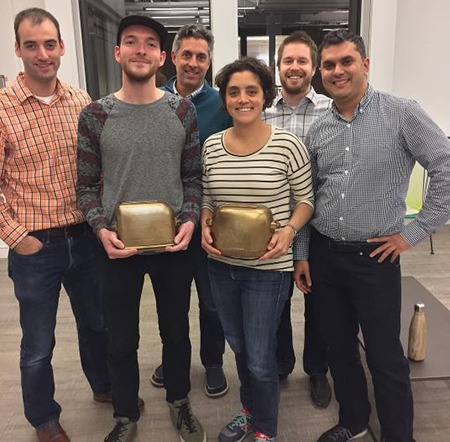 "I think that was our ah-ha moment," said Fredette, one of Toast's presidents. "These systems are quite old and quite scary for people" to use. What started as a simple mobile payment application in Narang's basement over six years ago is now a restaurant technology company that provides cafes, chain restaurants, and high-end dining establishments across the country with technological tools to make running a restaurant easier. Toast, one of 20 employers participating in the MIT Alumni Virtual Career Fair on May 5, is seeking employees in multiple positions including senior engineers. Learn more and register.
"Senior engineers are extraordinarily hard to recruit," said Alex Mimms, senior technical recruiter at Toast, "but we were able to hire a senior engineer out of the Career Fair last year so we figured it would definitely be worth our time to speak to the MIT alums that are out there."
Toast currently offers restaurants cloud-based software for point-of-sale tools and inventory tracking that addresses the day-to-day needs of running a restaurant. Toast technology also builds in capabilities for online ordering, gift card payments, and check splitting options to improve the customer experience.
"I attribute 20 percent of our new sales to Toast," says owner Joe Guenther of O'Maddy's Bar and Grille, a Florida-based restaurant that generates $5 million in annual revenue.
Toast also has their sights on the future. "We're looking at the bigger trends of automation, robots, drones, self-driving car networks…technology that could change the restaurant experience and it will," said Fredette. As their website notes, "We're the partially brown, partially golden, never totally finished piece of toast."
Toast is based in Boston with five restaurant customers within a half mile of their office. "It's really easy to see the problems that our customers are facing day to day," said Mimms, "which makes people all the more passionate." Toast lovingly calls its employees Toasters and holds quarterly Toastee awards when notable employees receive a golden toaster. The company celebrates National Toast Day, holds a company field day, and staff members regularly sport Toast outfits at parties and vendor shows.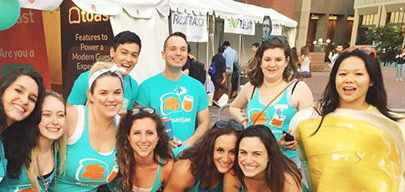 The company currently has 450 employees. If recent news about Toast's search for 100,000 square foot office space is any indication, the company might be bringing in hundreds more toasters in the coming year.
Open to all MIT alumni, the May 5th MIT Alumni Virtual Career Fair is a boutique, online recruiting event for employers and potential employees to connect. Register or learn more.