Personalized Surgery: Growing Your Own Bone
Filed Under
Bone-related surgeries can fail due to unsuccessful integration of prosthetic or donor bone implants. Nina Tandon SM '06 is working to solve this problem by growing human bone from the cells of the patient.
Tandon, CEO of EpiBone, leads the New York City–based company that is the first to grow living, anatomically correct bones from a patient's own stem cells. The tissue-engineered grafts are more likely to integrate into the body, not only because they are living, compatible tissue, but because they are created based on a CT scan of the target area and are made to fit exactly. "What we're really proposing is a different view of how we heal our bodies," says Tandon. "We have, within us, the capacity to heal ourselves, and all we are doing is helping to facilitate that natural process."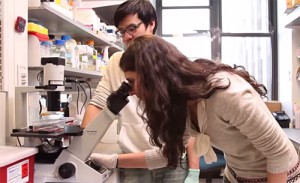 Tandon, who cofounded EpiBone six years ago, has spent the greater part of the past 14 years studying and testing various methods of tissue regeneration—and it all started at MIT.
As a graduate student studying bioelectrical engineering, Tandon did a research rotation with world-renowned professor and tissue engineering research scientist Gordana Vunjak-Novakovic (now scientific advisor to EpiBone). The two continued their collaborative efforts at Columbia University in the Laboratory for Stem Cells and Tissue Engineering. A Fulbright Scholar, Tandon completed both her PhD and an MBA at Columbia. She is coauthor of Super Cells: Building with Biology, a book that explores the new frontier of biotech. She was named one of CNN's "7 'tech superheroes' to watch in 2015" and one of Ernst & Young's Entrepreneurial Winning Women in 2017. EpiBone was a 2019 honoree in the Fast Company Innovation by Design Awards.
"It was through the work I did at MIT with Gordana that I realized the power of tissue engineering and regenerative medicine and the way it would change medicine forever," says Tandon. "By engineering human tissue and cells from stem cells, we can change the way medicine is delivered. Personalized medicine is without a doubt the future of medicine, and we are at the cutting edge of what is currently possible."
At EpiBone, Tandon and her team continually work toward perfecting their commercial products. Having completed their preclinical studies, they have received FDA clearance to proceed with human clinical trials for a mandibular indication and are on the path toward FDA approval to bring their technology to market.
"I can't wait for the day when someone who needs a transplant doesn't have to wait on a list," says Tandon. "And I'm hoping our work can get us one step closer."
An earlier version of this story was originally published on Slice of MIT in March 2015.
Filed Under