A Pandemic-Prompted Experiment in How We Engage with Art
Filed Under
Before the Covid-19 pandemic hit, Elizabeth Chapman MArch '81 was active in her architecture practice in Maine and taught courses in sensory neuroscience at the Osher Lifelong Learning Institute (OLLI) program at the University of Southern Maine. She was also very involved in the arts, painting in a shared Portland studio, attending concerts, and singing in a community choir. As the pandemic worsened and classes, rehearsals, studios, and performance spaces were shuttered, Chapman began to think about what effect the loss of in-person engagement with the arts would have on mental health.
"We're lucky we have our computers, but being immersed in a live performance is completely different—it's internal, affirming, and interpersonal all at the same time," she says.
We're lucky we have our computers, but being immersed in a live performance is completely different—it's internal, affirming, and interpersonal all at the same time.
Chapman wondered how MIT was responding to the pandemic, and in particular if anyone was exploring its impact on the arts community. She turned to the MIT COVID-19 Rapid Innovation Dashboard, where she came across an RFP from Omar Costilla Reyes, a research scientist at MIT CSAIL (the Computer Science and Artificial Intelligence Laboratory) who had been a postdoc in MIT's Institute for Medical Engineering and Science and the Department of Brain and Cognitive Sciences. He works at what he describes as "the intersection of digital health and artificial intelligence," with a view toward developing software that can be used to improve mental health, and he was looking for ideas for projects that would support mental health in the context of Covid-19.
Chapman presented him with a proposal that she said was aimed at helping "curious-minded adults" like herself, who were feeling the absence of live exposure to the arts, to "highlight multisensory experience with the goal of building an appreciation for our internal resources for creativity" and, in so doing, reduce anxiety levels. Through their collaboration, that proposal has led to the launch of a new interactive website called Senses + Art.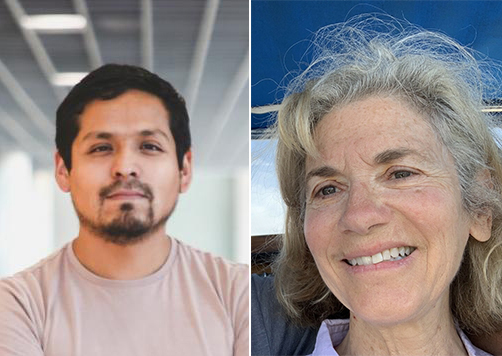 Chapman had started exploring the connection between neurology and architecture while at MIT. She was a visiting artist at Lafayette College from 2006 to 2008, where she co-taught an interdisciplinary undergraduate course with an art professor and a neuroscience professor. Her OLLI courses grew out of that experience and her interest in brain science; they include "Perception and Creativity Through the Lens of Sensory Neuroscience" and "Art, Music, and Poetry: The Origins of Creative Experience."  
At first Costilla Reyes wasn't quite sure what Chapman was suggesting, but when she explained more about the connection between the arts, the senses, and mindfulness, he says, "I was excited, because I'm looking in my research for innovative solutions for mental health."
He gathered a team of international student volunteers that included software engineers and data scientists from Peru, India, and China, among other countries. "I enjoy working with multicultural teams. They bring a unique and enriched perspective to projects, and this is no exception," says Costilla Reyes, who grew up in Toluca, Mexico, and earned his doctorate at the University of Manchester in the UK. "My engineering background and my expertise in neuroscience and mental health have substantially complemented Elizabeth's arts and neuroscience background to lead and give direction to the team."
The team met online with Costilla Reyes and Chapman once a week to design the website that became Senses + Art—"a place to practice mindful awareness of the gift our senses are to us," as the video on the welcome page says. Visitors are presented with a selection of images of paintings and photographs, as well as a list of musical pieces. They are invited to choose one of each and then experience them both at the same time, paying attention to how hearing the music affects their perception of the artwork. One can look at El Jaleo by John Singer Sargent, for example, while listening to Bach's Brandenburg Concerto No. 4. The idea is for the user to feel a sense of calm and of participation as a partner in a creative endeavor. To create a communal element, visitors have the option of writing a journal entry about their experience, which they can make public.
As the project has no budget at all, the team had to locate material for the site that was available for public use for free and without copyright restrictions. They found an ideal resource in Boston's Isabella Stewart Gardner Museum, which offered them images of artwork from its collection as well as high-quality recordings of medieval, Baroque, and 20th-century music made in its concert hall. The site also includes photographs from the Amon Carter Museum of American Art in Fort Worth, Texas.
While phase one of Senses + Art went live in March, Chapman and Costilla Reyes say their team is still welcoming new members from within and outside the MIT community. They are looking forward to expanding the site to include a broader exploration of how our senses combine when we engage with the arts.
---
At top: John Singer Sargent's painting El Jaleo (1882). According to the website of the Isabella Stewart Gardner Museum in Boston, where the painting is displayed, the work "is named for an Andalusian dance and is roughly translated as 'the ruckus.' This is a painting you can hear as well as see: heels clicking, fingers snapping, hands clapping, the sounds of singing and guitars."
Filed Under