Nuclear Engineering Major Embraces His Inner Performance Poet
Filed Under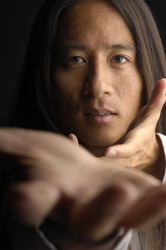 In honor of National Poetry Month, here's a look at some slam poetry from Kealoha (Steven Wong) '99.
Kealoha majored in nuclear engineering with a minor in writing and while a student, he interned at MIT's Plasma Science and Fusion Center and at the Los Alamos National Laboratory in New Mexico. Upon graduating, he changed gears and worked as a management consultant in San Francisco. One night in 2000 he attended his first poetry slam and his life changed.
Disillusioned with the corporate world, Kealoha began focusing his attention on poetry. By the end of 2001, he had left his job, moved back home to Hawai`i, and was sleeping on his brother's couch. He began sharing his poetry at open mics and in 2003 founded HawaiiSlam and First Thursdays, a monthly poetry slam that quickly grew to attract upwards of 500 people—and to become the largest registered poetry slam competition in the world.
According to his online bio, he is the first poet in Hawai`i's history to perform at a governor's inauguration, and in 2010 he was selected as a master artist for a National Endowment for the Arts program. In the seven years that he has represented his state at the National Poetry Slam, Kealoha has performed on the finals stage four times, was ranked in the top ten of the nation's best poets in 2007, and was honored as a National Slam Legend in 2010.
These days, he lives in Honolulu and still makes his living as a performance poet by touring the world, performing in music concerts, and visiting Hawai`i's schools, libraries, and community centers.
Watch Kealoha perform "Recess," which was recorded live at HawaiiSlam's First Thursdays on February 4th, 2010. Want to learn more about him? Read Kealoha's life story and view more videos of him in action.
Filed Under