Fresh for the holiday break, the November-December MIT Faculty Newsletter offers stories well worth your reading time:
Growing up in Buffalo NY, John Urschel loved playing football, like his father had. For college he earned a Penn State scholarship to play football. He was serious about his academics as well: he first studied engineering but was drawn to mathematics.
"My engineering classes were more focused on the 'how,' whereas my math classes were more concerned with the 'why.'…So during the summer of my freshman year, I took a senior level math course in probability, just to get a feel for the major. I loved it and immediately became a math major."
By Urschel's third year at Penn State, he was taking PhD level math courses. In his fourth year, he was teaching trigonometry and analytic geometry. In his fifth year, he was teaching vector calculus. Then he was drafted by the Baltimore Ravens in the fifth round and began his professional football career.
When he was accepted by MIT, he began splitting his year between the NFL football season and studies at MIT. "The MIT Math Department was very understanding. They let me start that spring semester in 2016, instead of the following fall semester."
And why did he quit professional football last summer?
"One, I loved MIT and I just didn't want to spend time away from it anymore. I wanted to focus on becoming a very good mathematician. And two, I started caring about longevity. I wanted to be able to walk my daughter down the aisle and things like that."
Boston Biotech Has a Woman Problem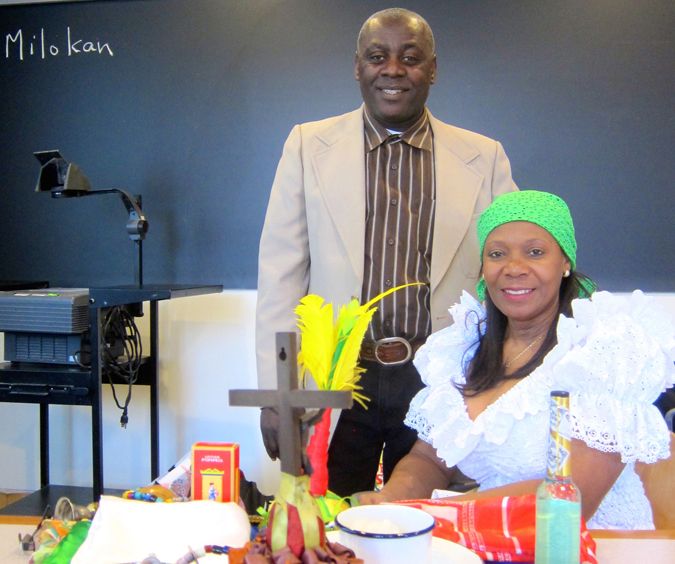 Voodoo Science at MIT?
A conversation in the Stata Center's faculty lunchroom turned into a history lesson pivoting around the terms "voodoo" and "Vodou." The first term reflects a fear of black nationalism embodied in the 18th century Haitian revolt against French colonists that "created the first Black republic in modern times," says linguistics professor Michel DeGraff. The second term refers to the ancestral religion of millions of Haitians. "So the European 'dread' of Vodou and of all things perceived as 'African' has had a profoundly negative impact on Haiti and its (mis-)representations in popular culture." Learn more about Haitian history and Vodou. Manbo Maude Evans, pictured above right, and Master Drummer Jean Marseille visit an MIT Black Matters class.
Filed Under