Astronaut class of 2017 selfie. Photo: NASA/Robert Markowitz.
The first time Jasmin Moghbeli '05 recalls "knowing with confidence" that she wanted to be an astronaut was in sixth grade after doing a book report on Valentina Tereshkova, the first woman in space. "Following the book report, we dressed up like the historical figure we had done the report on so my mom helped make a space suit for me out of white windbreakers. I've always been in awe of what humans are capable of achieving through teamwork and the use of technology and space exploration is one field that epitomizes that and really ignites my imagination."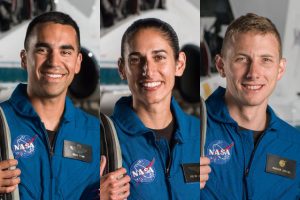 Moghbeli saw her dreams realized when NASA named her, along with Raja Chari SM '01 and Warren Hoburg '08, to the 2017 class of astronauts. This year, NASA chose 12 individuals from a record 18,300 applicants from all 50 states, the District of Columbia, and U.S. territories Puerto Rico, Guam, and American Samoa. All 12 new astronauts—in the largest astronaut class since 2000—will report for duty in August to complete two years of intensive training at the Johnson Space Center.
"I'm looking forward to getting to hang out on a daily basis with 11 amazing people and to learn from the smartest engineers and scientists in the world at Johnson, the other NASA centers, and with the international partners," says Chari. "With all the new vehicles in development, it's an exciting time to be at NASA."
At the time of the announcement on June 7, Hoburg was gearing up for MIT commencement. An assistant professor of aeronautics and astronautics, he has been teaching undergraduate courses on dynamics and flight vehicle engineering since 2014.
Following training, the possible assignments is varied: performing research on the International Space Station, launching from American soil on spacecraft built by commercial companies, and departing for deep space missions on NASA's new Orion spacecraft and Space Launch System rocket.
The three MIT alumni are thrilled to join the ranks of MIT alumni astronauts—of which there are now 41—including Buzz Aldrin ScD '63, the Apollo 11 pilot for the first manned lunar landing; and Rusty Schweickart '56, SM '63, who piloted the Apollo 9's first lunar module flight; Christopher Cassidy SM '00, P '16, chief of the Astronaut Office; and Jack D. Fischer SM '98, currently in the International Space Station as member of Expedition 51.
Filed Under