Caption: Smiling students take their test in the Zesiger Center Pool Photo: MIT Student Life
Next month members of MIT's Class of 2018 will descend upon campus to get their feet wet—literally.
To meet  MIT's General Institute Requirements, many students attending first-year orientation will hop in the Zesiger Center pool for a swim test. The test is a 100-yard swim with no time requirement. Most students will pass, some will sign up for a swim course in place of the test, and some will put off the requirement as long as they can.
Though it has been Institute requirement since the 1940s, the swim test, which students must complete to graduate, seems to sneak up on some seniors year after year.
"Two days before graduation in 1952, I received a note from the registrar's office that there was no record of my having passed the swimming certification. My diploma would be held until I passed it," remembers Dan Lufkin '52, SM '58.
"At MIT I tried to ignore the swimming requirement and at the start of my last semester, they informed me I still had to pass the swim test!" says Glenn Nelson '73.
"It was swimming that almost kept me from graduating. I had never learned to swim. MIT's wonderful physical education teacher, Doc Smith got me swimming and diving," Larry Constantine '67 shares.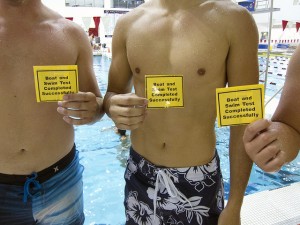 Why does MIT have a swim test?
Carrie Moore, director of physical education for MIT, says the test has a purpose outside of worrying would-be graduates.
"It's a self-survival skill. Research shows that most drownings occur in families where parents don't know how to swim," she explains. "Swimming also opens up several opportunities for students to take advantage of other water sports at MIT."
MIT's large international student population is one reason the test is still relevant today.
"MIT has an international population that generally has not had access to the swim courses like many in the United States. It's an important skill for students to acquire," Moore explains.
MIT isn't alone in its swim requirement. Cornell University, University of Notre Dame, Columbia University, Williams College, Bryn Mawr, and Hamilton College all require students to pass a swim test to be eligible for graduation.
While the reception for the requirement can be mixed, at least one alumnus is glad that a new batch of first-year students will be attempting the swim soon.
"I'm happy they still have the test," says Hank Valcour '56. "It is just one of those things that is still there while the Institute has changed in so many ways."
Do you remember your swim test? Tell us about it in the comments!
Filed Under