MIT Students Focused on Puerto Rico Recovery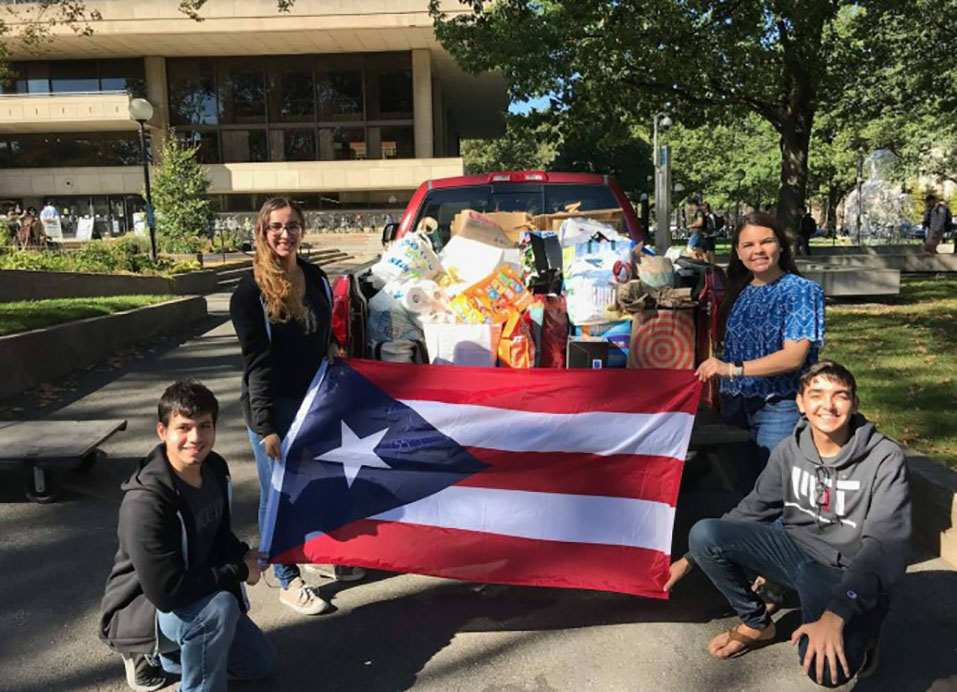 MIT's Puerto Rico community is a small but strong group. More than 70 current students are Puerto Rico natives and at least 300 MIT alumni call the island home, including current Puerto Rico Governor Ricardo Rosselló '01.
So when hurricanes Maria and Irma left a wake of devastation across the island in September 2017, it was no surprise that the community immediately jumped to help.
"Our community is super close," says Gabriel Ginorio '18. "When the hurricanes hit, we all lost contact with our families and friends on the island. Once we saw the extent of the damage, we knew we had to do something immediately."
Shortly after the hurricane, the MIT Association of Puerto Rican Students, led by Ginorio, the club's president, organized a donation drive that raised more than $6,000 and nearly 9,000 pounds of in-kind donations that helped serve more than 2,000 people.
The students' drive, held across three days on campus in October, connected disparate MIT groups, including MIT Police, the Undergraduate Association, and the Priscilla King Grey (PKG) Public Service Center, plus off-campus partners, to collect donations and efficiently deliver them to the island.
Other students and alumni returned to Puerto Rico during January's Independent Activities Period (IAP), including René Andrés García Franceschini '19, who spent IAP on the island as part of PKG's Explore initiative, a fieldwork-centered program that aims for real-world impact.
"I've visited 14 different cities and more the 60 businesses and analyzed the impact on supply chain and commerce, particularly in rural areas," Garcia Franceschini says. "The biggest bottleneck was energy—more than half of the country still had no power. It's nearly impossible for some businesses to get back to work."
Franceschini plans to return to Puerto Rico this summer to continue community outreach and explore sustainable energy options on the island.
"It's important to bring engineering knowledge to communities that might not have it by themselves," he says. "A more resilient system through collaborative power sharing could go a long way." (Read more about René's work on the PKG website.)
Danniely Staback MArch '18 balanced her final thesis at the School of Architecture with co-organizing an IAP course with two other Puerto Rican students, Luisel Zayas MArch '16 and Jorge Silen MArch '18, to rebuild roofs damaged by hurricanes in the town of Villalba. With assistance from the Foundation for Puerto Rico, founded by Jon Borschow '72, Staback was part of an 11-student group that worked with local construction workers to repair four badly-damaged homes.
"In the first moments after the hurricanes, we decided to find a way to help that had an impact in the real world," Staback says. "We did a week of coursework in San Juan then three weeks of roof repair. We were able to help affected families stay in Puerto Rico and work with the local community in Villalba to make it happen."
These efforts are only a few examples of the overall work of the MIT community aimed at hurricane relief since last fall. The MIT Conference for the Resilient Reconstruction of the Caribbean, a two-day conference held in December, convened researchers to discuss making Caribbean islands more resilient to the threat of powerful hurricanes and featured an interview with Rosselló on Puerto Rico's long-term rebuilding strategy.
Other groups have made recovery part of coursework. The D-Lab course Water, Climate Change, and Health connected with workers from the solar power industry to send the island 10 trailers fitted with filtration systems that can purify 600 gallons of water daily and with solar-powered stations to charge up to 10 phones and five laptops at a time.
"MIT's pool of talent—alumni, students, and policy makers—can have a long-term impact on Puerto Rico," says Ginorio. "We need to continue our efforts and be leaders in the recovery initiatives."