MIT faculty, students, and alumni are making significant contributions as exhibitors and curators at the 2018 Venice Architecture Biennale, on view now through November 25.
These MIT participants are represented in the architecture exhibition, considered one of the foremost global forums for architecture and the built environment and drawing hundreds of thousands of visitors from around the world to Venice, Italy.
U.S. Pavilion
The theme of the U.S Pavilion's exhibition is Dimensions of Citizenship and it includes Design Earth, the practice of Rania Ghosn, an assistant professor of architecture and urbanism in the Department of Architecture, and El Hadi Jazairy, a research scientist in the MIT Norman B. Leventhal Center for Advanced Urbanism (LCAU).
Ann Lui SM '15, one of the pavilion's co-curators, is co-founder of Future Firm and an assistant professor at the School of the Art Institute of Chicago. Read more about alumni contributors to the biennale.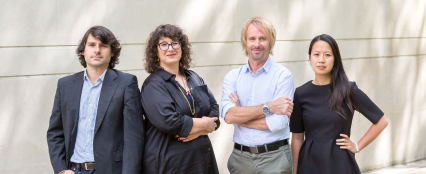 Brazilian Pavilion
The Brazilian Pavilion's exhibition, Walls of Air, explores ways to read and transgress the material and immaterial boundaries of Brazil and its architecture. As one of the pavilion's co-curators, Gabriel Kozlowski SM '15 led an architectural design workshop in January at MIT to produce maps for the exhibition. He is currently an LCAU teaching fellow and research associate.
Lithuanian Pavilion
Gediminas Urbonas, an associate professor in the MIT Program in Art, Culture, and Technology (ACT), and Nomeda Urbonas, an ACT affiliate, are curators and organizers of the Lithuanian Pavilion and its theme, the Swamp.
The Swamp program, with contributions by numerous MIT graduate students, researchers, and others, will involve exhibitions, performances, sound transmissions, installations, and other activities in various locations around Venice.
Canadian Pavilion
The Canadian Pavilion is celebrating the historic renovation of its building at this year's biennale with an exhibition, curated by Réjean Legault PhD '97, entitled Canada Builds/Rebuilds a Pavilion in Venice.
Official Exhibition
Cino Zucchi '78, chief architect of Cino Zucchi Architetti in Milan, Italy, is one of 71 architects and designers honored by the curators with inclusion in FREESPACE, the official exhibition.
Across Chinese Cities
One of 12 official collateral events, Across Chinese Cities, includes work (pictured above) from the People's Architecture Office, co-founded by James Shen MArch '07.
Close Encounter
The biennale also includes a special section called Close Encounter, which presents "works that originate in a reflection on well-known buildings of the past." One of the 16 buildings chosen for this section is the Beinecke Rare Book and Manuscript Library at Yale University, designed by Gordon Bunshaft '33, SM '35.
To read the full article, visit the MIT News website.