MIT-Nurtured Tech Produces Homegrown Plants
Filed Under
Picture this: It's a hot summer evening and you return home excited to prepare a rainbow of fresh vegetables cultivated from your garden. But to your despair, the lettuce, cabbage, and radishes have wilted—the plants didn't have enough water that day. Dinner is ruined.
The solution? Camille Richman '15 and Daniel Goodman '13 and their company, Hamama, engineered the Seed Quilt—grow-at-home seed packaging that automates the germination and sprouting process, and mechanically controls light, humidity, and watering. Each package contains everything needed for growing a variety of different microgreens—nutrient-rich small plants harvested without roots.
"Microgreens are as close to instant gratification as you can get with gardening while still getting these flavors that people know and love," Richman says. "Broccoli, kale, arugula, and daikon radish taste the same in microgreen form, and they're up to 40 times more nutritiously dense."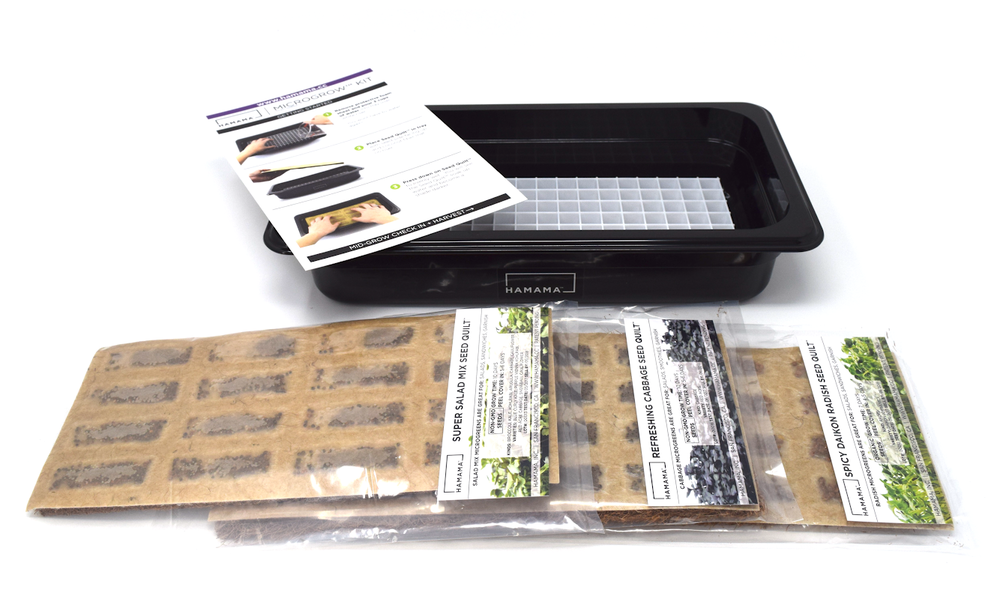 Richman and Goodman, who researched controlled environment agriculture in the MIT Media Lab, worked on a desktop application, called a "food computer," a research platform for understanding effects of different climates on crop production. The food computers range in size from a large box to a shipping container-sized greenhouse and require a computer to monitor and control oxygen, light, and plant growth. This fostered the Open Agriculture Initiative, which the pair both worked on for a year. After, they aimed to design a simplified yet still automated way to produce high-quality food at home.
"When we started prototyping we thought, 'How can we maintain that level of automation without needing sensors and feedback loops and a control system?'" Richman says.
A few months later, the Media Lab duo produced the Seed Quilt. Under pockets of seeds, the bottom layer's unique design controls the watering, wicking up the water as needed, so forgetful planters only need to water once. And as the sprouts grow, the Quilt's thin top layer converts to a humidity dome, which they eventually bust through to access more light and a less humid environment. The entire process takes 7–10 days.
"Different seed types have different strengths," Richman said. "Daikon radish for example is super strong when it sprouts, and will push that cover up super easily. Other things like kale, aren't as strong, and we input that into our manufacturing algorithm."

The seeds for Hamama, or "greenhouse" in Hebrew, began during Richman's MISTI Global Teaching Labs experience in 2014 and 2015, that sent MIT students to Israel to help middle and high school students solve ecological problems. She launched Hamama with Goodman in 2016 and since Seed Quilt's debut, the seed selection has grown from three types of seeds to nine. But the core message behind Hamama remains the same—celebrate the power of indoor agriculture.
"If you can grow indoors, you can grow anywhere no matter the season or the geography," Richman says. "We have customers growing food in Alaska in the winter and Arizona in the summer. Our goal is to empower people to grow healthy food in their homes year-round."
Watch the microgreen magic!
Filed Under