MIT in the Boston Globe: Social-Media Dog Search, Fed Comments, Robotics Venture
Filed Under
In the past 24 hours, the
Boston Globe
has covered several stories with MIT flavor. Here's a quick review:
Desperately Seeking Marisol, by All Means, Old And New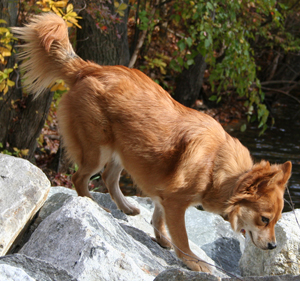 On Sunday's front page, the Globe featured a piece on how a MIT couple has been using social media and high-tech tools to search for their dog, Marisol, who was lost November 2 when a pit bull charged out of the woods and frightened her away from her dog walker.
Andrew Sempere SM '03 and Anindita Basu SM '02, who met as grad students at the MIT Media Lab and now live near Boston, were soon on the scene leading a search-and-rescue operation for their three-year-old, copper-colored mutt, whom they had adopted from Puerto Rico.
"The couple created a blog, findmarisol.com, and a Twitter hashtag, #MarisolSearch, which got a boost when the best-selling author Susan Orlean tweeted it to her 91,000 followers…They took out geo-targeted Facebook ads on the pages of those who live in the vicinity of the Fells and list dogs and hiking in their hobbies. They hired a $100-an-hour tracking dog and used GPS to create a 13-mile map of the route it took, following Marisol's scent."
Marisol is not back yet and the couple has changed tactics on the advice of experts who say she is now relying on her instincts and they must use tactics to attract a roaming dog. Read the article for more on the tools and tactics of the search.
Bernanke Warns about Rising Inequality
Federal Reserve chair Ben Bernanke PhD '79 said in a 60 Minutes interview that that rising inequality is eroding social cohesion and that Congress could help economic growth by making the tax code more efficient. He also defended the Fed's decision last month to inject $600 billion into the banking system.
The Globe article reports: "This fear of inflation, I think, is way overstated,'' Bernanke said. "We've looked at it very, very carefully. We've analyzed it every which way.''
Heartland Wants Its Robot to Give Manufacturing a Lift
A new Cambridge-based robotics start-up, Heartland Robotics Inc., has quietly banked some $32 million since its 2008 founding. Of interest to MIT folks, though, is that the founder is the recently retired MIT Professor Rodney Brooks, a cofounder with several alumni of iRobot Corp.
"Brooks apparently likens Heartland's robot, which is intended to perform assembly and packaging tasks that low-wage factory workers do today, to Apple's iPhone. He's interested in encouraging a community of software developers to create applications that would teach the robot to do tasks such as using its camera to recognize a defective widget and pulling it off the conveyor belt…."
Filed Under