The MIT Beaver Through the Years
[layerslider id="1"]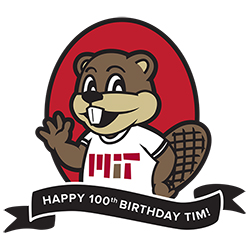 MIT's longtime mascot, the Beaver, turns 100 on January 17, 2014, and everyone is invited. Since its arrival, the beaver—now known as Tim—has become a familiar face around campus, both in person and in print. To honor his centennial, check out a gallery of rare images that honors Tim and highlights how much the beaver has changed over past 100 years.
For more on the MIT mascot, read an exclusive interview Tim gave to Slice, watch a video history from MIT News,  and visit the official birthday website.
Unless otherwise noted, the photos and images are courtesy of the MIT Historical Collection. If you have any additional information on the images, let us know in the comments below or Facebook or Twitter.