MIT Alums Help Bring Ender's Game to Big Screen
Filed Under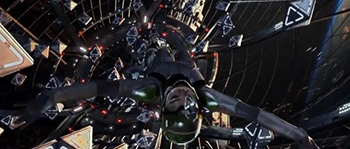 The science fiction movie Ender's Game, which opened on Nov. 1, has already made an impact at MIT, as hackers turned Lobby 7 into the movie's Battle School shortly after the premiere.
What the hackers may not have known is that the movie scene and location they recreated—a Battle School training exercise—was designed and conceived by an MIT alum. Matthew Butler SM '92 served as Ender's Game's visual effects supervisor. Butler—who has worked on the movies Fight Club, Titantic, and A Beautiful Mind and was nominated for the 2012 Academy Award in Visual Effects for his work on Transformers: Dark of the Moon—created the room using nearly entirely computer graphics.
In the film, the battle room is a zero-gravity, glass-domed sphere located within Battle School, a space station that trains human cadets to defend Earth in anticipation of an alien invasion.  According to Time, which published a photo gallery of the room's development, Butler supervised a staff of more than 400 people who worked on the movie's visual effects for more than two years.
"Digital Domain: The Making of Ender's Game," FlickeringMyth.com

"One of the ideas in Ender's Game is to try to get the best out of the people you work with," says director Gavin Hood. "I understandably went to Matthew early on and said, 'I'm a screenwriter not an engineer. You're an MIT graduate. 'Can you take a look at it and talk about anything that comes off to you as being scientifically inaccurate?' Matthew was a stickler for getting the zero-G right and working out the mathematics for what velocity they'd be moving at and how they'd turn."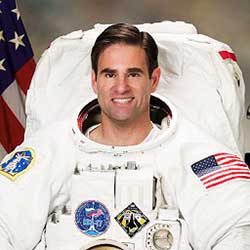 In addition to the computer-generated detail needed to create a futuristic space station, Butler also had to realistically depict each actor moving weightlessly in the zero-gravity training ground. To do this, Butler sought the counsel of his former MIT roommate, retired NASA astronaut Greg Chamitoff PhD '92. Chamitoff, who has spent nearly 200 days in space, counseled the cast on moving in zero gravity and provided photos and videos of Earth that he had taken while in space.
"Ender's Game Film Got Zero Gravity Tips from Real-Life Astronaut," space.com

Ender's Game even caused Chamitoff to flash back to life in space briefly while he was watching the film. As the Battle School students float out into the battle room for the first time, the view of the Earth stretching out beneath them reminded him of his life on the space station. "['Ender's Game'] was really amazing," Chamitoff said. "I expected it to be perfect. I expected it to look perfect, because I know that Matt puts math in behind it."
For more on
Ender's Game
,
read an Oct. 17, 2013, interview with Butler
from the
New York Times
that detail the visual effects needed to create the film's depictions of Earth, Battle School, the stars, and the cadets.
Filed Under