MIT Alumnus Daniel Lewin, the First Man to Die on 9/11, Transformed the Internet
Filed Under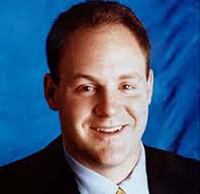 Wednesday marks the twelfth anniversary of the September 11, 2001, attacks in New York City, Pennsylvania, and the Washington, D.C. metropolitan area. Nearly 3,000 people were killed, including Daniel Lewin SM '98, who many believe was the first person killed in the attacks.
According to FAA reports, Lewin was fatally stabbed on American Airlines Flight 11 before hijackers deliberately crashed the plane into the North Tower of World Trade Center. Lewin, who served for four years as a soldier in Israel's Defense Forces, was seated in close proximity to three hijackers and may have attempted to stop the attack.
Lewin's actions on Sept. 11 were only a small part of his life's blueprint. A husband and father of two, Lewin cofounded Akamai Technologies with Professor Tom Leighton PhD '81 in 1998. The company, which revolutionized the way content is delivered across the internet, is now responsible for serving between 15 and 20 percent of all daily web traffic.
From "The legacy of Daniel Lewin, the first man to die on 9/11," cnn.com:
"He was really exceptionally smart. MIT has a lot of really smart people, and Danny stood out even among that rarified environment," says Leighton. "He liked working on the hardest problems, as opposed to the easier ones, because they would make more of a difference."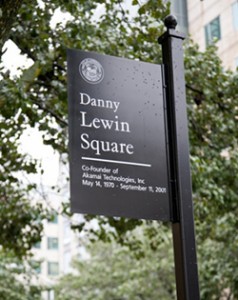 Akamai's roots began at MIT after CSAIL researcher Tim Berners-Lee tasked Lewin and Leighton with developing a more efficient way to deliver content online. Lewin's master's thesis focused on faster retrieval of pictures and video across the Web and won the 1998 Morris Joseph Levin Award for Best Masterworks Thesis.
Lewin and Leighton then developed a business plan and entered, but did not win, the MIT 50K entrepreneurial contest. That business plan evolved into Akamai, which went public in 1999 and posted an annual revenue of $1.37 billion in 2012.
Lewin's legacy lives on at MIT and in Cambridge. The intersection of Main and Vassar Streets is now known as Danny Lewin Square and Akamai has named a park outside its Kendall Square offices in his honor. MIT's annual 100K competition and the Symposium on Theory of Computing have featured awards dedicated to Lewin.
From, "Remembering Danny Lewin," MIT News:
"He was really like nobody I'd ever met, he really had the ability to focus and then just drive, drive, drive, drive, drive," says Professor Charles Leiserson. "Its fun being around people like that who can really have an impact and make a difference."
To commemorate the Sept. 11 anniversary, a biography of Lewin, "No Better Time: The Brief, Remarkable Life of Danny Lewin, the Genius Who Transformed the Internet," written by Molly Knight Raskin, was released on Sept. 10, 2013.
Filed Under