MIT 24-Hour Challenge: A Blizzard of Giving
Filed Under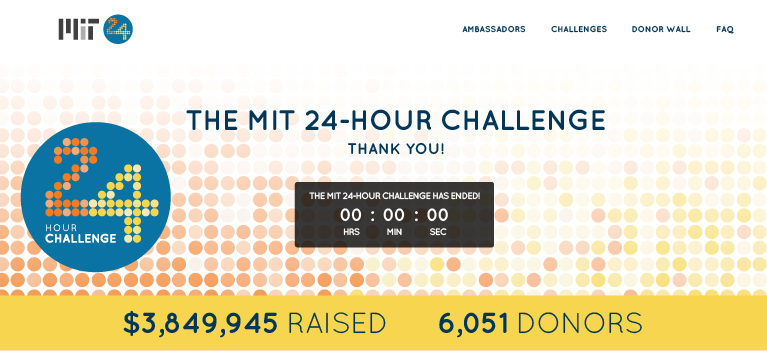 Inclement weather caused MIT to close down campus on March 14—aka Pi Day—but the forecast proved much sunnier for the Institute's first-ever 24-hour Challenge.
The online fundraising event invited MIT alumni, friends, students, and faculty and staff from snowy Cambridge and parts all over the globe to make gifts of any amount in support of student aid, student life, academic support, or other MIT needs. With a primary focus of encouraging participation, the day was framed by an overarching challenge: if 1,500 individuals donated by midnight ET, the Institute would unlock a $150,000 matching gift from an anonymous alumni donor.
When the Challenge surpassed that goal at 10:00 a.m., the donor offered up another $50,000 gift were the donor count to rise to 2,000, which it did—less than two hours later.
At its conclusion, the inaugural 24-hour Challenge finished at 6,051 donors contributing more than $3.8 million—including a total $315,000 in challenge funds from the anonymous donor—in support of the Institute.
More than 490 supporters were alumni who either had never made gifts to MIT or had not given in recent years, illustrating the popular response to this call to action.
"This challenge was all about participation, so it was great to see so many individuals coming together as a community to make a collective impact in one day," says Allison Dolan-Wilson, senior director of Alumni Relations and interim senior director of the MIT Annual Fund in the MIT Alumni Association. "It is especially gratifying to see so many people supporting the Unrestricted Fund, which provides the foundation for MIT's mission to create a better world."
The Alumni Association also credits much of the success of the 24-hour Challenge to the enthusiasm of its nearly 900 "ambassadors," volunteers who spread the word about the day within their networks of classmates and friends on social media, email, and through events around the country. Their support was instrumental also in ensuring that each of the day's smaller micro-challenges, often supporting campus programs or class-named scholarships, all met their own goals on March 14, as well.
"This Challenge shows you the power of our MIT community's ability to rally together around this institution," says Alumni Association Executive Vice President and CEO Judith Cole. "What happens when someone sets a goal for you around something you truly love? If you are from MIT, you not only exceed it, but you do so before lunch."
Filed Under