The creator of
Rock Band
, a popular music video game that makes anyone feel like a rock star, is back on campus. Eran Egozy '93, MNG '95 is teaching MIT students to find their own way to blend technology and music.
Behind Rock Band's success are two alumni—Egozy and Alex Rigopulos '92, SM '94, co-founders of Harmonix. The pair founded the company in 1995 after meeting at MIT. Since 2007, the company has sold 18 million units of Rock Band and is coming out with Rock Band 4 later this year.
At an early age, Egozy spent months after school coding his Apple II computer to play back Beethoven's Ninth Symphony. He started playing the clarinet when he was 12 and continues to practice daily as a member of Radius Ensemble, a local chamber music group.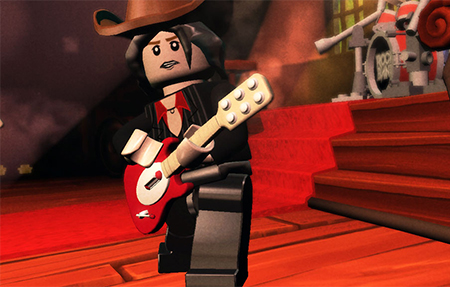 While at MIT, Egozy studied the intersection of computers and music at the Media Lab. And he still returns to campus on a regular basis. This past spring, he taught the course Interactive Music Systems. Students learned how to use spatial sensor technologies to create musical instruments that could be played by shifting arms side to side or up and down.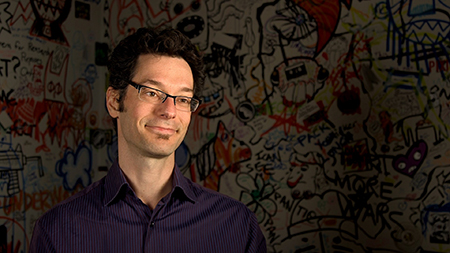 "When I was at MIT, I remember certain moments where people help you out and sustain you by giving back," said Egozy. "The wonderful thing about teaching this class is I get to talk about interesting specifics in how Harmonix created products. It's fun to give back in that way."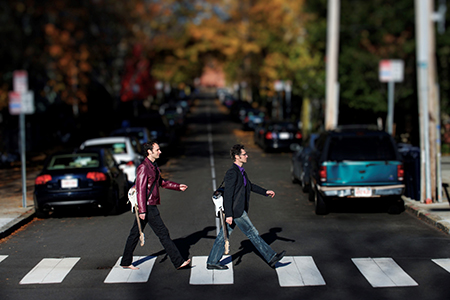 Subscribe to the Slice of MIT podcast on iTunes and SoundCloud. Listen to past podcasts with novelists, professors, and entrepreneurs by visiting the Alumni Association's SoundCloud page.
Filed Under