The List is Up. How Did MIT Fare in the 2010 TR35?
Filed Under

The
TR35
—
Technology Review
's annual list of the world's top innovators under the age of 35—has just been announced. So, did anyone from MIT make the list? Why yes, yes they did. In fact, 40% of the list is made up of MITers—all are alumni with the exception of one, a fellow at the Whitehead Institute.
Here's a rundown of young innovators changing the world in the fields of  medicine, computing, communications, electronics, nanotechnology, and more.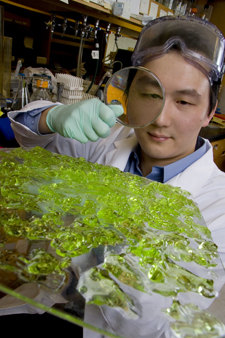 Danah Boyd SM '02: Shaping the rules for social networks
David Bradwell MNG '06: Cheap, reliable batteries to store renewable energy
Wesley Chan '00, MNG '01: Building new technology businesses
Nick Feamster '00, MNG '01, PhD '06: Watching the suspicious behavior of spam
Rikin Gandhi SM '05: Educating farmers through locally produced video
Jacob Hanna (Whitehead Institute fellow): Reprogramming cells to cure diseases
Amir Alexander Hasson SM '02: Using cell phones to supply rural shop owners
Timothy Lu '03, MNG '03, PhD '08: Engineering viruses to destroy biofilms
Conor Madigan SM '02, PhD '06: Bringing down the price of OLED displays
Celeste Nelson '98: Reconstructing tissue architectures from scratch
Michelle Povinelli PhD '04: Predicting better photonic devices
Chris Rivest '05: Printing cheaper solar cells
Mikhail Shapiro PhD '08: Commercializing neurotechnology
Richard Tibbetts '03, MNG '03: Reacting to large amounts of data in real time
The elite list was selected from more than 300 nominees by a panel of expert judges and the editorial staff of Technology Review. The winners will be featured in the September/October issue of the magazine and at the EmTech@MIT 2010 Conference, held Sept. 21–23, where they will present—in 90 seconds or less—the inspiring work that landed them the honor.
Filed Under