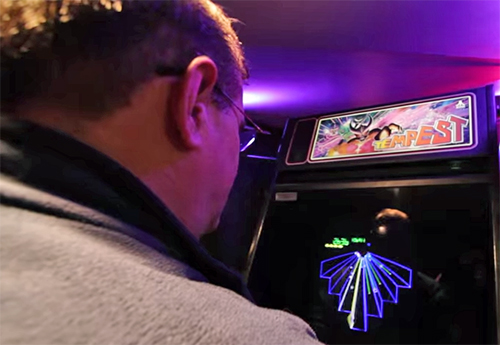 Eric Clayberg '86 will never forget the day he set a world record. It was the summer of 1982, just months before starting at MIT, in his hometown of Fredericksburg, VA. He was at the local arcade, the Zodiac, and the game was Tempest. He spent more than two hours playing the game—with a small audience of about 15-20 friends—until he finally beat the national high score, one he would keep for the entire summer.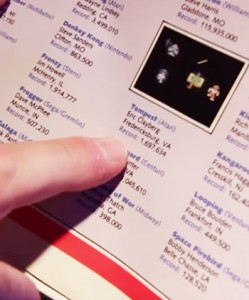 He arrived at MIT at the height of the arcade gaming era and much to his delight, he found many other arcade-obsessed classmates on campus. "There were a lot of local arcades in Cambridge and Boston," says Clayberg, "but I mostly remember the many nights I spent at MIT's student center, which had a great arcade." As if this wasn't enough, Clayberg decided his sophomore year to purchase three games of his own to put in the basement of the Theta Delta Chi fraternity house. Unfortunately, none of the games survived their time at MIT and one game—a rare Sega color vector graphics game called Space Fury—was even lost to the annual smash party and thrown off the roof of the fraternity house.
By the early 1990s, arcade games were on the decline for sales and popularity in America, but for Clayberg, his collection was just getting started. After MIT, Clayberg moved to New York for a couple of years before earning his MBA at Harvard. When he graduated in 1990, he started to look for machines to buy.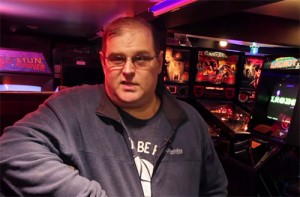 Clayberg now has one of the best home arcades in the country in his Middleton, MA, home. His 550-square-foot basement arcade, which is decked out with lighting and arcade sound-effects, has 45 games including three Tempest machines, Star Wars, Ms. Pacman, Asteroid, Battlezone, Galaga, Stargate, Major Havoc, and Robotron. The arcade, though it's in his private home, gets a lot of use. His two kids, Lauren and Lee, often bring over friends to use the space and the family frequently holds gatherings for events like the Superbowl. Clayberg even has visits from fellow arcade game collectors.
Clayberg's kids clearly have the gaming gene—since the fifth grade, both have been programming video games. Lauren, who will enroll at MIT this fall, plans to study in Course 6 and Lee, a sophomore in high school, hopes to follow in his family's footsteps. Although Clayberg enjoys modern games, he still prefers arcade games.
"What I like about the old arcade games is the simplicity of them," says Clayberg. "A lot of the games nowadays are these monstrous, complex games with massive universes that can take days to play. I like the simpler concepts of the arcade games from the early '80s where you can walk up to it and learn how to play it in a few minutes. Simple, intuitive, and a lot of fun."
Along with being an arcade aficionado, Clayberg is a serial entrepreneur, starting several technology companies, specializing in commercial software development and product development, and has been responsible for creating more than a dozen commercial Java, Eclipse, and Smalltalk products including the award winning WindowBuilder Pro, CodePro, and VA Assist product lines. His last venture, which he started in 1997 and provides software platforms for software developers, was bought by Google in 2010. As a software manager at Google, Clayberg works with his team of engineers in a Portland, Oregon-based office, videoconferencing on a daily basis and flying to Oregon and Google's headquarters in California monthly.
Clayberg's basement arcade has been featured on HGTV and SPACEStv.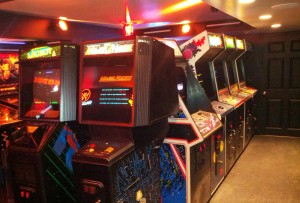 This story is part of gaming week put on by the MIT Alumni Association. Follow along on Facebook and Twitter and join the conversation using #gaming.
Filed Under