Investing in Seeds of Positive Impact
Filed Under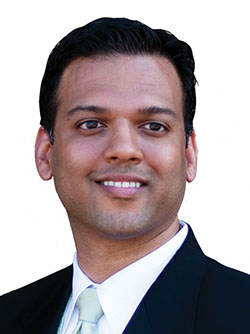 Climate change will be the issue that defines our generation," says venture capitalist Atish Babu '00. As the vice president at Agriculture Capital Management, Babu invests in farmland and has helped convert some 10,000 acres in the western United States and Australia into sustainable agriculture ventures. "What I've focused on is, how do I use technology and capital to make food healthier, cheaper, and more accessible in a way that renews the environment and our communities?"
For Babu, MIT helped plant the seeds of his passion for making a positive impact through his investments. Many of his extracurricular activities as a student were focused on social responsibility and entrepreneurship; he says that helping to organize what was then the MIT $50K Entrepreneurship Competition was a great learning experience.
"Through classes and extracurriculars, I was meeting with top entrepreneurs in the country, and I found many of my first jobs that way," says Babu, who majored in management at MIT and now lives in San Francisco. Those contacts led to a job in venture capital and a stint as an early employee at Vonage.
"Now, 17 years out from the Institute, I look at why I'm doing the things that I'm doing—and a lot of it traces back to MIT putting me in a position to take risks and lead change that has the potential to change the world for the better," he says. "Everyone who walks through Lobby 7 is uniquely positioned to address some of the most complex and difficult challenges of our time."
Babu earned a Harvard MBA in 2008 as a way to transition into social impact investing and spent almost a decade in Asia and Africa funding technology to promote sustainability for poor communities. He was a founder and partner at Omnivore Capital, an early-stage venture capital fund focused on agriculture and food technology startups in India.
In the past decade, he has seen sustainability go from a fringe movement to a top strategic issue for leaders of finance and industry. "You're seeing businesses create whole new industries in education, financial services, health care, and transportation," he says.
Babu remains strongly connected to the Institute. MIT friends from six continents plan to attend his wedding this summer. He also keeps in touch with other alumni around the world, visits the Institute several times a year, and conducts admissions interviews as an educational counselor.
His advice for current students? "Go see the world, and go find your passion. It's amazing how much the rest of life just naturally falls in place once you do those two things."
This article originally appeared in the July/August 2017 issue of MIT Technology Review magazine.
Filed Under