An Intensive Plunge into the MIT Entrepreneurial Mindset
Filed Under
Erdin Beshimov MBA '11 always wanted to be an entrepreneur. And he wanted to help spread the entrepreneurial spirit around the globe—particularly to places where that spirit was lacking. "Growing up, like I did, in Kyrgyzstan, you're painfully aware how difficult it is for some countries to access knowledge," says Beshimov, son of a Kyrgyz opposition politician.
Hoping to improve that access, Beshimov returned to MIT in 2013 to help the Office of Digital Learning, now part of MIT Open Learning, create a Massive Open Online Course (MOOC) on entrepreneurship. Launched in early 2014, Entrepreneurship 101 was enormously successful, with nearly 70,000 students enrolled for the first session. For Beshimov, who is now a senior director at Open Learning, the massive response and equally massive enthusiasm were life changing. "I saw an immense hunger for the type of thinking we have at MIT," he says. "And I saw that this hunger, this entrepreneurial drive, wasn't fueled by a desire for money or power. It was fueled by a desire for personal independence and positive change. That resonated deeply with me. And I wanted to find more ways to extend this knowledge beyond MIT."
Entrepreneurship is not just about starting companies—it is, first and foremost, about strengthening one's confidence and building supportive communities in order to overcome hard challenges.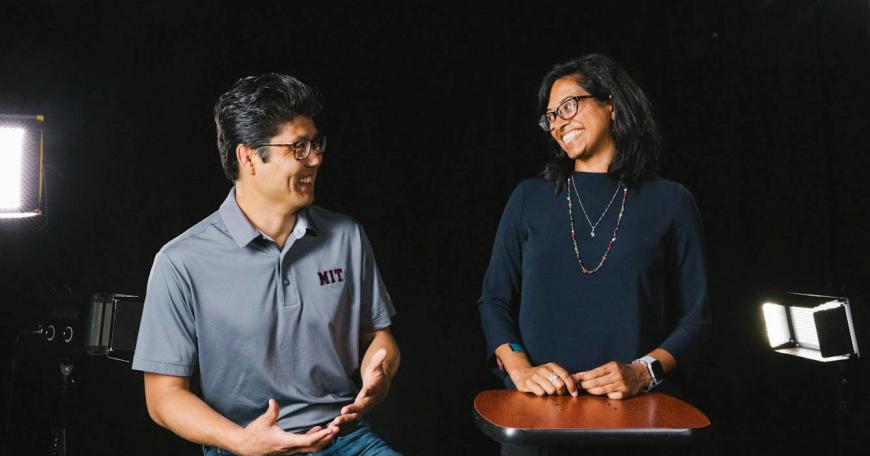 One of those ways, for Beshimov, was a program called MIT Bootcamps, which he cofounded in 2014. Bootcamps teaches entrepreneurial problem discovery and problem solving to aspiring entrepreneurs around the world. For its first session, 47 successful applicants completed a series of four required MOOCs, then came to the MIT campus for a one-week intensive training led by MIT faculty and alumni coaches. The "Bootcampers" were serial entrepreneurs, business professionals, engineers, educators, designers, journalists, and undergraduate and graduate students from other schools. Two more on-campus Bootcamps followed, along with another session in Seoul, Korea.
In 2016, Beshimov ran into his Sloan classmate and friend Vimala Palaniswamy MBA '11. Palaniswamy had been working in edtech and had started a fair-trade skin care company with her Sloan roommate, Daria Kaboli MBA '12, since graduating from MIT. More recently, she'd helped create a support network for entrepreneurs in emerging markets after working at the Legatum Center for Development and Entrepreneurship at MIT. But her cofounder and mentor had died a few months earlier. She was ready for something new. Beshimov invited her to join him at an upcoming Bootcamps session in Istanbul as a coach. She liked the sound of it.
"When I came to Sloan, I didn't think I could be an entrepreneur," says Palaniswamy, who studied microbiology as an undergraduate at the University of Georgia. "Sloan demystified that for me. It made me see that everything I was doing in international development, identifying problems and addressing them, was innovation and entrepreneurship. I wanted to help bring that awareness to entrepreneurs around the world."
A military coup delayed the Istanbul Bootcamps session, but Palaniswamy signed on anyway as a Bootcamps consultant. "I thought it would be something I'd do until I figured out what I wanted to do next," she recalls. Six months later she joined MIT full time as associate director of MIT Bootcamps and was later promoted to director to scale the program worldwide.

Beshimov and Palaniswamy have helped to organize dozens of Bootcamps on campus and in places including Tokyo, Rio de Janeiro, Taipei, and Brisbane. Aspiring entrepreneurs are divided into teams and assigned to a team of coaches for the week. Participants pay the equivalent of the tuition for a full-semester course as a special student. "We've designed the Bootcamp such that it's equivalent in content to a full-semester MIT course," says Beshimov. "As such, the program is very intense, and it also provides a tremendous amount of coaching that's unique in higher education in general."
Students in a typical session can range in age from 18 to 76. More than 100 nations are represented among Bootcamps alumni. As part of its commitment to broadening access to MIT education, MIT Bootcamps also provides tuition-free programs for refugees. In collaboration with the MIT ReACT program, Beshimov and Palaniswamy have held free sessions for Middle Eastern and African refugees in Amman, Jordan, and also virtually for refugees globally. "Entrepreneurship is an important option for refugees who may not have the right to work in the countries where they are settled," explains Palaniswamy.
"Entrepreneurship is not just about starting companies," adds Beshimov—"it is, first and foremost, about strengthening one's confidence and building supportive communities in order to overcome hard challenges."
Palaniswamy stresses that she and her colleagues look for more than conventional success or unbridled ambition when selecting students. "We choose people, not their credentials," says Palaniswamy. "People who show an ability and desire to collaborate. Who want to make the world a better place."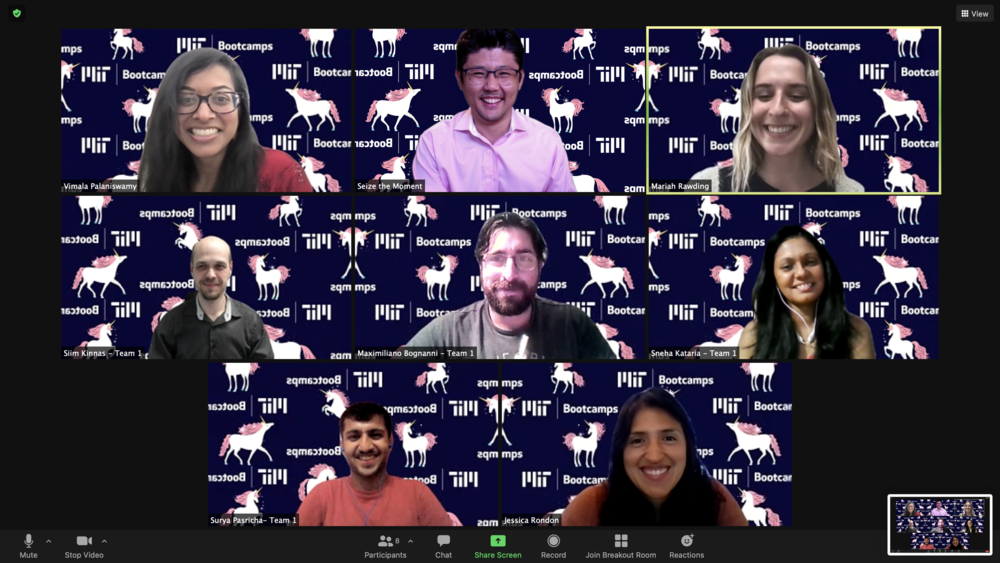 While Covid-19 did put a temporary lid on travel, Bootcamps adapted swiftly and smoothly to a virtual format, with MIT alumni coaches in 22 different time zones coming online to work with participants. (The next 10-week online session, focused on innovation leadership, kicks off in June.) "Our coaches are what enable us to bring the MIT experience to the world," says Beshimov. "They epitomize what educators should be. Sharp minds. Generous hearts. And experience in solving real-world problems. I believe that education is mastery plus community. Our coaches enable us to create this superb community, and a magical educational experience."
---
Photo (top): Participants at the 2017 "Beyond Food" Bootcamp held in Taiwan. All photos courtesy of MIT Bootcamps.
Filed Under