Innovation Center Lets Teens & Tweens Get Their Hands Dirty
Filed Under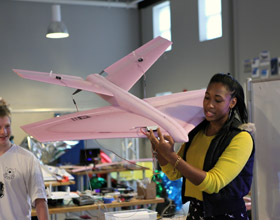 Some of the most memorable experiences at MIT happen when students seek to solve real-world problems and navigate the successes and failures inherent in the invention process. Now, alumni are bringing that same sort of experience to middle and high school students with NuVu, an innovation learning center located near campus in Central Square.
Launched in 2010 by Saeed Arida SM '04, PhD '11 (chief excitement officer); Saba Ghole SM '07 (chief creative officer); MIT PhD student David Wang '05, SM '10 (in-house rocket scientist); and Sean Stevens (prototyping guru), NuVu uses the architectural studio model and encourages youth aged 11–17 to tackle complex, comprehensive problems with a hands-on approach. Small teams collaborate on multidisciplinary projects centered around a theme (for the winter term, currently underway, the theme is smarter planet). It's an anything-goes, get-your-hands-dirty, dream big kind of place that offers instruction in robotics, engineering and applied sciences, information technology, design and interaction design, computer programming, alternative energy, social sciences, and digital arts and media.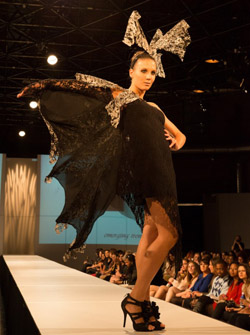 Guiding students every step of the way are experts, many of whom are MIT alumni and PhD students. These coaches (as they are called) work with groups to address complex scientific, technical, and design questions and help with prototype inventions, which are then evaluated by external reviewers (professors, practitioners, entrepreneurs and designers). Students learn creative problem solving, collaboration, communication and presentation skills, systems thinking, adaptability, risk-taking, and more.
NuVu is a full-time program, 9:00 a.m.–3:00 p.m. weekdays, and the learning is intense. Students enroll in a sequence of four studios, each lasting two weeks. During the academic year, local schools send a select group of learners to NuVu for three to six months of  instruction. Special summer programs have been taught elsewhere in the US and there's now a satellite program in India, the NuVu-Bangalore Studio.
The summer 2013 theme is interactive music and art. Studios include futuristic musical instruments, interactive storybook, brainwave art & music, drawing robots, interactive fashion, and more.
Registration for any or all of three summer sessions (July 8–Aug. 16) is open now through May 8. Enrollments are processed on a first-come, first-served basis.
There's also a summer professional development session for educators and curriculum developers to learn about studio-based pedagogy. Participants will devise a project they can implement in their own schools and communities. Registration is open through April 19.
check out NuVu's blog for more project updates.
Filed Under