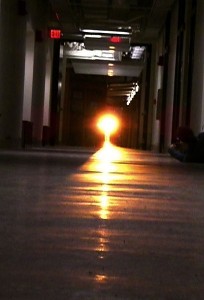 As sun worshipers come out in northern climes, Slice is mulling a venerable sun ritual we can look forward to in the cold months—MIThenge. The twice annual event—mid-November and late January—is now a campus tradition, but it was only discovered, calculated, and publicized in 1975-76. And the discovery came from the architecture department.
Want to see MIThenge—the two-minute phenomenon that floods sunlight down 825 feet of the Infinite Corridor? Watch a short video.
A Sky and Telescope article traces the origins of MIThenge to the fall of 1975 when then architecture research affiliate Tom Norton heard comments about how sunlight occasionally flooded the Infinite Corridor. Curious about how far the sunlight could reach, he worked with two colleagues, Timothy E. Johnson and Sean Wellesley-Miller, who made the calculations a project in an architecture class. Several students found that a solar alignment occurred twice a year. Norton decided to publicize the event and created a poster that reported the phenomenon and included the student calculations and photography pioneer/MIT professor Doc Edgerton's silhouette of Stonehenge. "MIThenge" was born when Norton plastered posters all over campus just before the next sighting in January 1976. Ever since, students have crowded the optimal viewing area—third floor of Building 8, looking west—twice a year.
That was not the end of the calculations, however. When Ken Olum PhD '97, now a research professor at Tufts Institute of Cosmology, was working in his graduate degree, he saw the poster and noticed a problem with the numbers. He found an error in "rounding the azimuth to the nearest degree and having the corridor slant upward an unrealistic amount," the article reported. His response was a new calculation that he posted in 1997 with predicted dates through 2100. Although there are caveats about those calculations, you can find the dates in the MIThenge website.
Learn more in the Sky & Telescope article—and mark the date for the next MIThenge.
Filed Under