How Many MIT Alumni Were Named to Tech Review's TR35?
Filed Under

MIT Technology Review has named its annual list of 35 Innovators Under 35—the TR35. According to Tech Review, the list honors the most compelling and innovative young researchers whose work is making a real-world impact on society.
The list is split into five categories: Entrepreneurs, Inventors, Humanitarians, Pioneers, and Visionaries. And Similar to past years, MIT has a strong presence—More than one-third of the list has connections to the Institute, including at least seven alumni.
View the list of MIT alumni below then visit MIT News to learn more about the full list, which includes Canan Dagdeviren, a post-doctoral researcher at MIT Langer Labs.
Polina Anikeeva PhD '09 (Pioneer) Class of 1942 Assistant Professor, MIT Department of Materials Science and Engineering
"The tools we were using (to control the brain optically and investigate brain function) were too large and too bulky, and didn't have enough capability. Since my background was nano–optoelectronics and nanofabrication, I felt that we should be able to do better."
Lars Blackmore PhD '07 (Visionary) Entry, Descent and Landing Team Leader, SpaceX
"Blackmore (is) a soft-spoken Brit who leads a team at SpaceX that's developing the onboard software necessary for a rocket to come down gently in an upright position onto a platform in the ocean."
Patrick Collison '10 (Entrepreneur) Co-Founder and CEO, Stripe
"Making it so easy to participate in the online economy has a far larger effect than one might imagine. We're enabling new business models, like crowdfunding...That enables more people in society to take advantage of these services."
Gilad Evrony '07 (Pioneer) Researcher, Harvard Medical School
"From studying 300 neurons one at a time, Harvard Medical School researcher Gilad Evrony helped make a surprising discovery: brain cells sitting right next to each other don't always have the same genetic codes."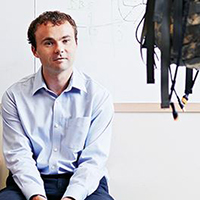 Conor Walsh SM '06, PhD '10 (Inventor) Assistant Professor of Mechanical Biomedical Engineering, Harvard University John A. Paulson School of Engineering
"(Walsh is) working on robots that are soft, lightweight, and flexible so people can wear them to enhance their abilities...The exosuit could support soldiers as they walk, to increase their endurance. Or it could help patients who have trouble walking."
Zhen Gu SM '98 (Pioneer) Assistant Professor, University of North Carolina at Chapel Hill
"Zhen Gu, whose grandmother died from diabetes complications, is developing insulin delivery mechanisms that could be better. The most recent one is a fingernail-size patch covered in more than 100 microneedles."
Rikky Muller '04, MEng '04 (Entrepreneur) Co-Founder and CTO, Cortera Neurotechnologies, Inc.
"Rikky Muller, an Israeli-born entrepreneur and the cofounder of Cortera Neurotechnologies, is designing the implantable hardware intended to interact directly with the brain."
Did we leave any MIT alumni off our list? And are there any alumni who deserve consideration for 2016? Let us know in the comments below or on Facebook or Twitter.
Read Slice of MIT's past coverage of MIT alumni the TR35 from 2014, 2013, 2012, and 2010.
Filed Under