Hawaii's Poet Laureate, an MIT Alum, Melds Art and Fusion Energy
Filed Under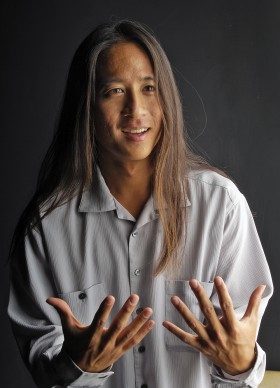 In 2012 the governor of Hawaii named the state's first poet laureate: Steven Wong '99, whose poetry blends science and art. Wong's latest work, a 90-minute stage show called The Story of Everything, spans 13.7 billion years and ends where he started at MIT: with fusion energy. "I wrote a thesis when I was an undergrad," he says, "but this feels like the thesis of everything I've learned in my life."
Wong, who now goes by the mononym Kealoha, enjoyed majoring in nuclear engineering in part because he had a chance to tackle subjects outside his department and work with different people. "It was like being a Swiss Army knife," he says. He minored in writing, interned at MIT's Plasma Science and Fusion Center, and served as a DJ at parties on and off campus.
After he graduated, he worked as a management consultant for two years. Then attending a San Francisco poetry slam—essentially a poetry-reading competition—reawakened his creativity. He began writing with a passion. At the end of 2001, he moved back to his hometown of Honolulu. He started working open-mike nights and began building a poetry scene, including a monthly slam. HawaiiSlam's First Thursdays competition now draws more than 500 attendees a month, making it the largest registered poetry slam in the world. In 2007 Kealoha placed eighth in the National Poetry Slam.
For his new show, a grant from the Native Arts and Culture Foundation allowed him to hire nine musicians, five dancers, a visual artist, and a graphic designer. The piece starts with the Big Bang, which dissolves into a Woodstock-style peace concert. Dancers build the periodic table with disco moves. Humans evolve and migrate across the planet.
"The last chapter is about the future through the lens of science, and it's all about climate change," he says. "That's the issue we need to solve now." He has performed the show in Honolulu, San Francisco, and Anchorage and at a gathering of Protect Our Winters, a climate-change awareness group for winter sports participants.
Being poet laureate is a great honor, Kealoha says: "I got tapped to represent the face of poetry within Hawaii and to represent Hawaii through the face of poetry to the world. I'm just thrilled." He feels most fulfilled, however, when people tell him that his work has moved them or changed their perspective. "That's the goal—that's the good work," he says.
Filed Under