The Harvard-Yale Football Game is MIT Hack Madness Champion
Filed Under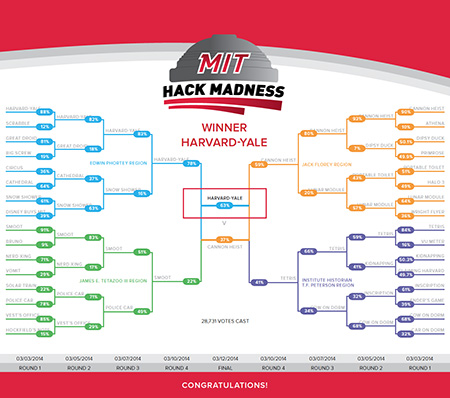 The 1982 Harvard-Yale football game outlasted 31 MIT hacks over five rounds and, at long last, is crowned MIT Hack Madness Champion. View full results in the updated bracket.
In the tournament's championship round, the Harvard-Yale game—
three separate hacks
that unfolded on national television—defeated the
Caltech Cannon Heist
, a 2006 prank that transported Caltech's three-ton Fleming House cannon more than 2,500 miles undetected to MIT campus, by a score of 63-37 percent.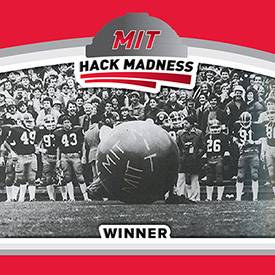 In total, the football game collected a tournament-high 5,045 votes and overwhelming defeated its opponents—including an early favorite,
the Smoot
—in each round. On Facebook, Scott Berkenblit '86, SM '90, PhD '96 called the game "a hack for the ages." "It was sad to have to vote against Smoot (sorry, Ollie)," Bruce Bottomly '65 wrote on Facebook. "But nothing can beat Harvard-Yale in terms of MIT creativity, complexity, skill, stealth, national attention, and establishment of infinite bragging rights against that place down the street in Cambridge." The more-recent Cannon Heist put a valiant effort throughout the tournament, including winning by a tournament-best margin of 86 percent in Round 2 and soundly defeating
Tetris on Bldg. 54
—the so-called "Holy Grail of Hacks"—in the penultimate round. Overall, the two-week tournament generated nearly 29,000 votes on
Slice of MIT
and social media and hopefully generated a significant amount of Tech nostalgia and polite disagreements. Choosing 32 hacks from MIT's 153-year history was difficult and subjective—some favorites were undoubtedly omitted—and
Slice
respects all viewpoints of what truly is the MIT community's favorite hack. Thanks to all of the voters, especially those who shared opinions on Alumni Association social media. Five of our favorite comments:
Click to see full voting results.

"Dirty little secret: this is what we *really* do at MIT." - Robert L Krawitz '87 "I vote for Cow on Dome! My great-grandfather is milking the cow!" - Sophia Edwards, great-granddaughter of William A. Pitbladdo '31

"My dad was there...a Harvard Grad. He fully had to acknowledge MIT was the winner, hands down!" - Elise Rose '86, on the Harvard-Yale Game

"I still don't know how they did all that (and I read the narrative.) The Brass Rat put it over the top." - David Plass '90, on the Caltech Cannon Heist

"I was there for the 'snow in shower.' I don't remember whose idea it was to call the newspaper, but it was a cool idea and they fell for it hook, line, and sinker. And the story was picked up by wire services and ran around the world. Best part was the sub-head of the front page story in Boston…went something like: Cold Air + Steam => Snow!" - Paul Epstein '51
For more on the tournament, view the
completed bracket
and overall voting results. Re-live the tournament and
read descriptions on all 32 hacks
in the original tournament bracket. Congratulations, Harvard-Yale Game!
Filed Under