Hacked! Tetris on the Green Building
Filed Under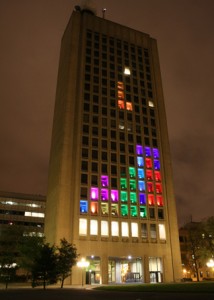 Many newly admitted students got their first glimpse of MIT life during the 2012 Campus Preview Weekend, and current students played their part in introducing them to MIT's most notable quirk: the hack.
On Friday evening, April 20, one side of the Cecil and Ida Green Building (Building 54) was transformed into a giant video game canvas, with students and alumni battling each other in a multicolor game of Tetris.
According to  IHTFP: The MIT Gallery of Hacks, the Tetris-on-the-Green-Building hack was an idea almost 20 years in the making.
From the MIT Gallery of Hacks:
MIT hackers have long considered "Tetris on the Green Building" to be the Holy Grail of hacks, as the side of the building is a wonderful grid for the game.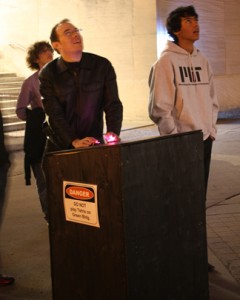 Players controlled the blocks from a console in front of the building and each game began with the word "TETRIS" scrolling across the building. If a player advanced to the second level, the block colors became paler, making it harder to identify a block's shape. The third level was even more advanced, with block colors changing mid-game. Upon defeat, the blocks crashed to the bottom of the building.
Interested in seeing more MIT students playing Tetris? Check out our previous post of Burton-Conner residents who transformed the mats from Dance Dance Revolution into the controllers for a six-foot-tall, LED-illuminated game of Tetris.
Filed Under