Faculty Forum Online: Forging a New Direction in Climate Research, Feb. 5, 2013
Filed Under

Update: View a video of this presentation.
Research aimed at predicting future climate activity has primarily focused on large and complex numerical models. While this approach has provided some quantitative estimates of climate change, those predictions can vary greatly from one model to the next and produce doubts in the projected outcome.
In the next Faculty Forum Online broadcast, Professor Kerry Emanuel '76, PhD '78 will discuss a new approach to climate science that emphasizes basic understanding over black box simulation. After Emanuel presents a brief overview of climate research, he will take questions from the worldwide MIT community via video chat on Tuesday, Feb. 5, from noon to 12:30 p.m. (EST).
Register for this free event—Forging a New Direction in Climate Research—to receive the link for live viewing. After the event, return to Slice and continue the conversation in the comments.
About Kerry Emanuel '76, PhD '78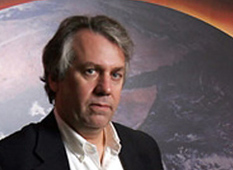 In 2006, Emanuel was named by Time magazine as one of the 100 most influential people in the world. He is the author of What We Know about Climate Change, a book The New York Times called "the single best thing written about climate change for a general audience."
A Cecil and Ida Green Professor in the Department of Earth, Atmospheric and Planetary Sciences, Emanuel is a co-founder of the Lorenz Center, an MIT think tank devoted to understanding climate activity. His research focuses on tropical meteorology, hurricane physics, cumulus convection, and advanced methods of atmospheric sampling.
Emanuel received his bachelor's degree in earth, atmospheric, and planetary sciences from MIT in 1976 and his doctorate in meteorology from MIT in 1978.
RELATED
"The 2006 TIME 100: Kerry Emanuel," Time "An Antidote for Climate Contrarianism," The New York Times "Scientist proves conservatism and belief in climate change aren't incompatible," Los Angeles Times "Hybrid Hell: Hurricane Sandy is a kind of storm scientists don't understand well," Slate
Filed Under