An Entrepreneurial Recipe for Sustainable Lavender Lattes
Filed Under
Debbie Wei Mullin MCP '09 took special pleasure in making Copper Cow Vietnamese coffee during the 10-day backpacking trip she took last summer in Denali National Park in Alaska. Deep in the wilderness, she would drizzle boiling water over the one-time-use, pour-over filter, waiting for the dark, fragrant liquid to collect at the bottom before adding the packet of sweetened condensed milk. Sometimes, she even drank Copper Cow twice a day: once in the morning out of her collapsible mug, and again on a cliff overlooking some snowy peak after a long day on the trail.
"Drinking that lavender latte overlooking the mountain range is a pretty special feeling," she says—doubly special because Copper Cow is her company, grown from a solo venture into its current incarnation, with products sold in 5,000 stores and $3 million in funding.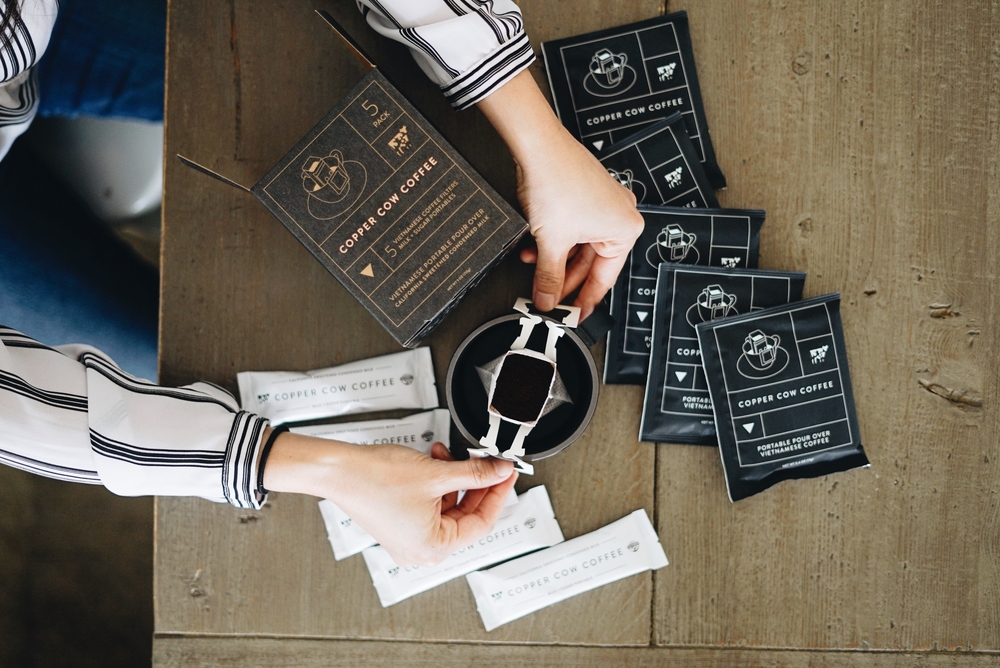 Mullin did not start out as an entrepreneur. Growing up near San Francisco, she first studied economics and international development at UC Berkeley, then added a master's in city planning from MIT, inspired to learn about ways to build sustainable local economies all over the world by her mother's experience as a Vietnamese refugee. Though she then landed what she thought was her dream job—a gig at the World Bank funding poverty alleviation projects that took her from Washington, DC, to India to Seattle—she still felt dissatisfied with the bureaucracy inherent in her employer's global structure.
Starting a small business with a sustainable, socially responsible mission seemed like one way to fulfill her desire for a more dynamic role. In her down time away from the World Bank, Mullin began renting commercial kitchen space, preparing batches of a beloved shallot-infused oil recipe her mother had brought with her from Vietnam. The product quickly developed a cult following—and then stalled. "I had no idea how little people cooked," Mullin says, citing a Harvard study that found only a tenth of Americans regularly prepare their own meals.
She concluded that she had to find a more accessible product and discovered that, in contrast to the dismal cooking statistics, nearly three-quarters of Americans drink coffee—another area in which she could draw on her roots. Copper Cow prepackaged Vietnamese coffee was born.
Mullin's time at MIT was foundational to her business philosophy. Her urban planning coursework was intensely interdisciplinary, focused on finding solutions for social issues in diverse arenas ranging from political science to design thinking to zoning history.
This experience continues to inform her approach as Copper Cow grows, not just in her understanding of supply chain economics but also in the way she goes about bringing together diverse stakeholders in a complicated market. MIT provided an environment of what she calls "incredible collaboration" that she strives to recreate in her own work, teaching her "how you navigate so everyone wins as much as possible; how you balance what investors want, what farmers need."
Focusing on creating opportunities for collaboration has also transformed Mullin's attitude toward new challenges. "You'd be surprised how generous people are with information about how to do things if you ask," she says—an approach that, for example, found her cold-calling the Washington State Department of Agriculture for advice on necessary documents during Copper Cow's early days in Seattle. More-experienced entrepreneurs have offered advice along the way, as well. "They're rooting for you," she says. "They'll text you back; they're hoping you're growing into one of their peers and you'll help them too."
You'd be surprised how generous people are with information about how to do things if you ask. They're rooting for you. They'll text you back; they're hoping you're growing into one of their peers and you'll help them too.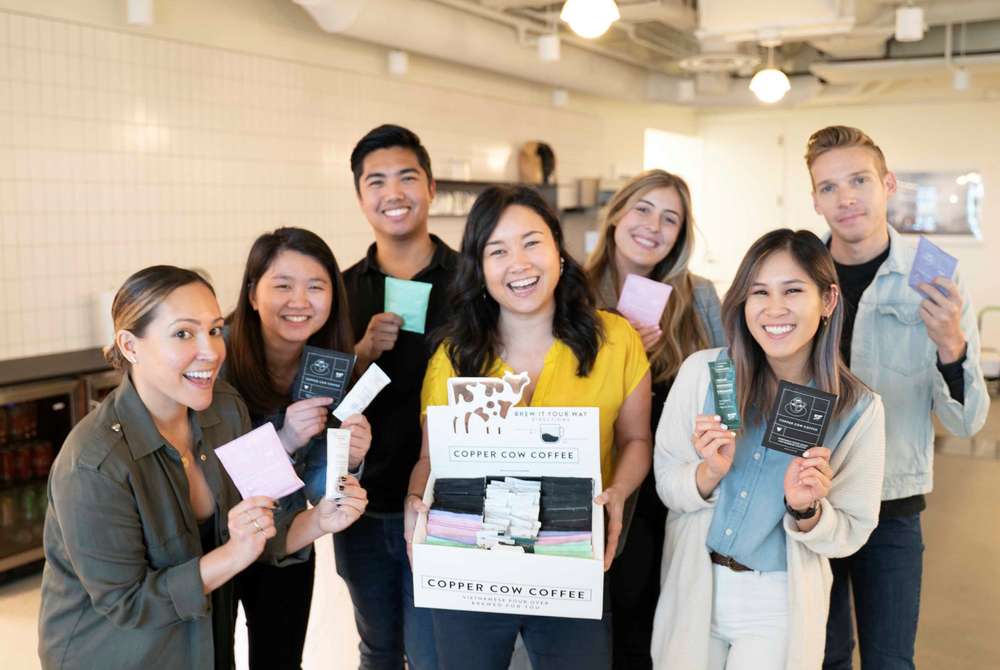 That support has helped Mullin to scale up while also remaining true to her original vision. For Copper Cow, that means building a business that's both socially sustainable (the company pays its farmers twice market rates) and environmentally sustainable (Copper Cow's product is entirely organic, and it has invested in new technologies that help separate the coffee cherry from the bean without chemicals). Along the way, she has grown into her role as a female and Asian entrepreneur. She was the only woman, for example, at a recent portfolio dinner hosted by her lead investor. "I wish there were more women putting themselves out there doing this, and minorities especially," she says. "It's taught me to be fearless."
Leading Copper Cow has taught Mullin a lot of things. As CEO, she prizes transparency, seeking to be "the one making the most mistakes in the company." Recently, for example, Copper Cow has piloted a series of unusual coffee flavors, an idea Mullin came up with early in the company's history to help set it apart. To go along with popular lavender, rose, and mint options, Mullin grew particularly attached to the idea of a cardamom flavor. ("My research and development was basically, 'Well, I like it,'" she says ruefully.) She promised huge sales and insisted on a big marketing push, but the coffee failed to catch on like the others.
The problem: "Nobody knew what cardamom was," she says. That public misstep made her realize that her strategies need to change as Copper Cow grows beyond the proverbial "one-person show" into something both more complex and more exciting. "I used to be the person who ordered the lavender, and I have to stop being that person," she says. The continual evolution built into the entrepreneurial process is simultaneously her "favorite part and the hardest part."
In Copper Cow, she's found an opportunity to problem-solve more directly than she could with issues she faced at the World Bank, adapting as new information becomes available, and even giving up on cardamom coffee if necessary. "As much as I want more Americans to cook, you have to meet your customer where they're at," she says, "and spend more time listening."
---
Photo (top): Mullin in Dalat, Vietnam, amid the coffee fields from which Copper Cow sources. All photos courtesy of Copper Cow Coffee.
Filed Under