DIY-IAP: MIT Community Service Day, January 27
Filed Under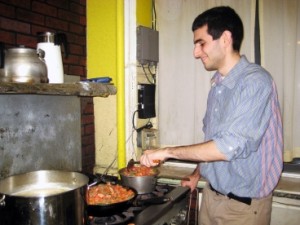 The holiday season is behind us and, for many, so is its spirit of giving. But the commodity of community service is always needed, and MIT junior Benjamin Francis is helping address this need.
Since October, Francis has lead a group of students in founding a soup kitchen that helps the homeless and hungry in the Cambridge area. MIT Hillel, Professor Jeffrey Ravel, and Central Square's St. Bartholomew's Episcopal Church support the project. The kitchen operates every Wednesday evening, when no other community meals are served in the area.
From MIT News:

There are approximately 40 volunteers on the project, consisting of students from MIT Hillel, three MIT fraternities (Zeta Psi, Sigma Nu, and Phi Kappa Sigma), and others who joined after hearing about the project by word of mouth. At any given time on a Wednesday evening, 10 to 15 volunteers operate the soup kitchen. They cook, serve food, clean, and talk with many of the people who come in for dinner.
That group's work personifies MIT's spirit of giving, which will be on full display during
MIT's IAP Community Service Day
on January 27. Open to all members of the MIT Community, volunteers can spend the day working with three local organizations: the Greater Boston Food Bank, where volunteers will inspect, sort, and repack grocery products to be distributed to hunger-relief agencies; the Salvation Army, where volunteers will help paint the group's Harbor Light Center; and
People Making a Difference, MIT,
which was founded by Lori Tsuruda '89 and promotes volunteerism in one-time projects that meet local needs. Volunteers will assemble Legos into DNA models that will be used by schools in the Boston area and across the country. (
Register
by January 23th and contact
serviceday@mit.edu
for more information.)
MIT-related volunteer efforts beyond the IAP period can be found at the Institute's Public Service Center, which has a broad range of public service that suit the interests and abilities of the larger MIT community.
Volunteer opportunities for non-Cambridge-based alums are also available. The IDEAS Global Challenge is an annual invention competition that relies on volunteers to help organize events, work with teams, and reach out to new audiences. Many alumni can also volunteer through their Alumni Association connections, which includes serving as an Institute Career Assistance Network (ICAN) advisor and getting involved in MIT clubs in your region.
Editor's note: In honor of MIT's Independent Activities Period (IAP) in January, Slice is focusing on activities you can do yourself and on the experiences of students serving this month as externs with alumni in their workplaces. Stay tuned!
Filed Under